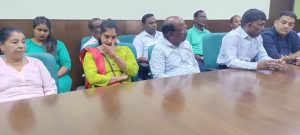 Goemkarponn desk
CANACONA: BJP Karyakarta's working on the concept of our Country's Prime Minister and our Chief Minister to make our State Self-sufficient (Atmanirbhar Goem-Swayampurna Goem) have taken – up a challenge to construct 14 New Houses in the places of their existing dwelling structures and Chief Minister Dr Pramod Sawant will lay foundation stone to these houses on Saturday', informed Speaker Ramesh Tawadkar.
Addressing a press meet in the presence of some of the BJP stalwarts and a few Sarpanchs, Tawadkar informed that each house would be built at the cost of slightly above eight lakhs of rupees and would be readied within a maximum period of two months.
Chief Minister Dr Pramod Sawant, BJP State president Sadanand Taawade, NRI Chairman Narendra Savoikar and a few other BJP stalwarts in the State are also invited to be part of the Launch-program (of Shram-Dham) at Shri Gaitonde Mini-Sports Complex, Chaudi, after laying foundation stone's to all the proposed houses 3- in Agonda, 6-in Canacona Municipality, 3- Poinguinim and one each in Loliem and Gaondongrim. '
On occasion, Balram Charitable Foundation is also launched by Chief Minister.'
"With our concept not to have any family in Canacona constituency without a proper roof over their head (a decent House), We already have will 's. "Though we are bringing this concept now, we are only trying to revive Ghanvchem-Ghanvponn, Ghanvchem-Munisponn existing previously in helping each other. There may be more than 125 families in Canacona who do not have proper roofs over-their-heads, but recently we have inspected around 25 houses and have shortlisted 14 of them to take up in the first phase. We may take up the next lot in phases," he said.
Stating an appeal is made to the citizens to contribute just a Rupee and one-day workmanship for the Shram-Dham scheme, Tawadkar informed that the funding of the Shram-Dham is purely by the BJP Karyakarta's (Workers) who are working very hard on Antoday-tatwa and the willing citizens, we are not taking benefits/finances from any of the State Government or Central Government Schemes to construct these houses. Besides the monetary, we are also expecting help by way of 'kind' and manual works'. We expect construction materials such as Bricks, Cement, Sand, amongst others. We had already built a very decent house within a month of commencing the works at Baddem-Khotigao, by expending over 10 Lakhs, but in the upcoming projects, the houses may differ in sizes and other structural things, depending upon the availability of land, etc., we are trying to limit the maximum expenditure of upto 8 Lakhs to one House.'
Stating Balram Charitable Foundation and Shram-Dham are two different entities, Tawadkar went on to state that due to various reasons, no beneficiaries of any government scheme to construct houses have benefitted in totality. 'I think 90% of the beneficiaries of a prominent government house-building/Renovation scheme could not avail of the last and third instalments. And the reasons could be many, including the primary need of any family is a livelihood, and most of the scheme beneficiaries ended up using either the first or second instalment for other needs than to construct/repair the house.
Though some people have offered to finance an entire house and even more, we are more interested in getting the collective support of the residents and neighbourhoods. Besides, not opting for any government schemes, we are entirely dependent on the strength of our Karyakarta's ability to collect funds, material and workmanship; and right now, we have also not approached anyone for CSR funding, though it may be explored in future depending upon the necessity.', Tawadkar informed.
Besides Tawadkar, BJP Canacona block president Vishal Dessai, General Secretary Diwakar Pagui, District (South) Vice President Mahesh Naik, Executive members Vishant Gaonkar, Pandurang Gaonkar. Sarpanch's Fatima Rodrigues (Agonda), Anandu Dessai (Khotigao), and Sejal Gaonkar (Shristhal) were present for the press briefing.
Comment