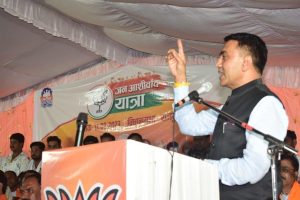 Goemkarponn Desk
PANAJI: Chief Minister Pramod Sawant today said that proportion of Goa's population living below the poverty line has declined tremendously.
"Goa's contribution to India's achievement of SDGs: 45,564 people have exited multidimensional poverty. Report on National Multidimensional Poverty Index (MPI)," said Sawant
He further said that the MPI is based on the three pillars of health, education and standard of living.
"But the work to reduce poverty, eradicate extreme poverty for all people by 2030, hasn't stopped here," he added
As far as other states are concerned, Goa & Kerala had only less than 1% of the population in multidimensional poverty.
The number of states with less than 10% of people living in multidimensional poverty has doubled in the five-year period considered.
According to the report, in 2015-16, only seven states had less than 10% of their population living in multidimensional poverty — Mizoram, Himachal Pradesh, Punjab, Sikkim, Tamil Nadu, Goa, and Kerala.
However, in 2019-21, a total of 14 states including Telangana, Andhra Pradesh, Haryana, Karnataka, Maharashtra, Manipur, and Uttarakhand had less than 10% living in multidimensional poverty. All five South Indian states fall into this category.
Comment