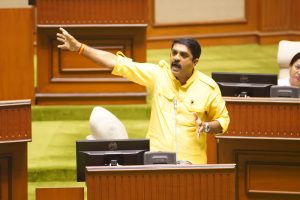 Opposition demands House Committee or an inquiry by a retired judge into the scam
● CM Says show-cause notices have been issued to the contractors
● Vigilance inquiry ordered against former IPSCDL CEO for
irregularities
Goemkarponn desk
PORVORIM: Chief Minister Dr Pramod Sawant on Thursday said that show-cause notices have been issued to the contractors while a Vigilance probe has been initiated against former CEO IPSCDL Swayandipta Pal Chaudhary for irregularities in Smart City functioning.
The Opposition leaders on Thursday demanded an enquiry
into the Smart City corruption scam by the House Committee or a retired judge into the irregularities.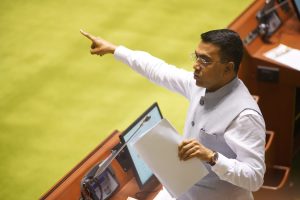 The issue was raised by Congress' Quepem MLA Altone D'Costa.
He pointed out that there has been a misuse of funds by the IPSCDL.
"Almost 600 cr has been utilised so far without completion of funds. Where has the money gone? he asked.
The Leader of Opposition Yuri Alemao, Goa Forward MLA Vijai Sardesai demanded that a thorough investigation be initiated into the Smart City scam.
"What was the reason for the flooding in Panaji? The frequent roads caving in need proper investigation," Alemao said.
Chief Minister Dr Pramod Sawant replying in the absence of Urban Development Minister Vishwajit Rane, said that the government is seized of the matter.

"We have issued the show-cause notices to contractors for sub-standard works. We have also initiated a Vigilance enquiry against the former CEO of IPSCDL for the irregularities," Sawant said in the House.
Sawant said that the flooding in Panaji was mainly due to high tide which was refuted by the Leader of the Opposition.
"Was there no high tide before Smart city works started?" he asked.
LoP and Sardesai said that they were not satisfied with the replies given by the chief minister and wanted an enquiry by House Committee or by an independent judge.

However, the CM refused to give in to the Opposition's demand and said an enquiry is already going on.
"Only 33 per cent of works have been completed and that is why you can see the mess. Only after 100 p.c we will be able to call Panaji a Smart City. Those who want to call "Stupid City" will see the same and MLAs need to see positively," he said.
Comment