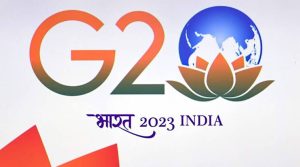 Goemkarponn Desk
PANAJI: Led by Director (Personnel), Office of the Comptroller and Auditor General of India, (CAG) Vishal Desai, a six member delegation from the corporation are on an official visit to Goa to review the preparation for the upcoming SA120 summit in mid-June.
As part of India's presidency of the G20 in 2023, the Comptroller and Auditor General of India (CAG) will also chair the SAI20 for the year 2023. This gives India an opportunity to play a leadership role in promoting good governance and accountability in the public sector in India and among the other G20 countries.
The Supreme Audit Institutions or SAI20 is a group of audit organizations from the G20 countries that promotes good governance, transparency, and accountability. India will hold the second meeting of the two scheduled SAI20 meetings as part of the G20 summit in Goa from June 12 to 14. The first meeting for senior official of SAI20 member nations and the World Bank, was held in Guwahati in mid-March.
The SAI20 engagement group seeks to enhance transparency and accountability in governance by formulating strategies through discussions with all all concerned parties. These strategies are then utilized to create policies that align with their goals and ones that impact global economies.
Sanjit Rodrigues, Secretary Protocol & Nodal Officer – G20, Goa State chaired a meeting with the delegation on Thursday at the Goa Secretariat. "The delegation is here till Saturday and the members will visit hotels, airports and conference location to review the preparations for the SA120 summit," he said.
Comptroller and Auditor General of India, Girish Chandra Murmu who is the chairman of SAI20, has called on the SAI meetings to focus on topics including blue economy and responsible artificial intelligence.
The Group of Twenty or G20, is the premier forum for international cooperation comprising of the world's most-powerful 19 economies and the EU.
The G20 group was established with the goal to solve major global issues which are related to the stability of International Finance, the international economy, migration due to changes in climatic conditions, and sustainable development.
Argentina, Australia, Brazil, Canada, China, France, Germany, India, Indonesia, Italy, Japan, Mexico, Republic of Korea, Republic of South Africa, Russia, Saudi Arabia, Turkey, United Kingdom, United States of America, and the European Union (EU) form the G20 group. Representatives from guest countries and international organisations have also been invited to attend the Summit.
Comment