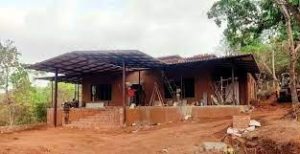 Goemkapronn desk
CANACONA: The ongoing illegal construction work of a controversial Ashram at Sadolxem (Poingunim) is finally issued a 'Stop-Work' Notice by Canacona Dy. Collector.
According to sources, Canacona Dy. Collector Ramesh Gaonkar issued the notice to 'Stop-Work' at the under-construction of an Ashram at Vape-Sadolxem in Poingujinim by Raaj Shashibhushan Pande alias Swami Rishiraj on Monday.
It may be recalled that locals, including a local panch Shilpa Prabhugaonkar, and other panch members of the ruling group of VP Poinguinim, complained against the Swami for illegal Hill-Cutting, illegal Felling- Trees, and carrying out illegal construction to build an Ashram at Vape- hillock in Sadolxem village. The issue has also rocked the last gram sabha, and sarpanch Savita Tawadkar accepted the overall activities have no legality, informed that notices have been served to the alleged perpetrator of the mass illegality in the village, and assured to initiate further action to stop construction activities.
According to sources, the panchayat had even issued an order directing the Swami to demolish the illegal construction carried out so far without permits and licences.
The same sources, however, informed that despite the 'Stop-work' notice by the Dy. Collector and Demolition order of village panchayat of Poinguinim, the work of the controversial ashram at Vape-Sadolxem is still in progress and going – on unabated with at-least people/work-men working inside, outside and the roof-frame works of the building.
An aerial view of the near-to-complete Ashram building posted on social sites also confirms the men working at the complex, also giving a clear view of destruction carried out by the felling of trees and hill-cutting surrounding the Ashram building.
Comment