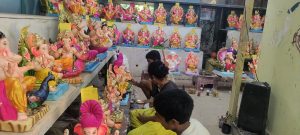 Goemkarponn Desk
CANACONA: With just a day to go, while artisans are busy in giving last minute touches to their tedious job of making Ganesh Idols, the families who bring the idol of Elephant faced God in their homes are busy in making last moments purchases and also other arrangements including decorations of the Ganpati mandal, especially collecting the ingredients required for 'Matoli'.
Several Sarvajanik Ganeshotsav mandals especially at Char-rasta, Chaudi, Police Station, Shrishthal, Gaondongrim, Loliem-, Poinguinim, Agonda, Matvemoll (Khola) are almost ready with the backdrops and Scenes (Dhekave) of various concepts only awaiting installation of the Ganesha 's murthi (Idols) now a day later. Sarvajanik mandaps are mostly decorated with fancy lightings giving a mostly inovative stage settings, where Lord Ganesha murthi will be laced.
Interestingly, the entire Chaudi town was hectic keeping littarily all the shops open and heavily visited throughout Sunday. Besides the Chaudi town, several hill-growers were seen combine in the market and roadside selling all the forests ingredients people wants to make arrangements for Matoli.
The two prime Chari's Ganesh Idols workshops at Char-rasta together accounting for over 400 Ganesh idols and several other large sized Sarvajanik Idols for the famous Quepem Ganeshotsav Mandal and Mala(Panjim) are Ninety Nine Percent ready for the D-Day on Tuesday.
When this correspondent visited the workshops, the 5th Generation Chari clan were busy in giving final touches to some of the idols.
Very young Chari clan of one workshop Vivan Raghunath Chari and Vardan Sidharth Chari, while Samarth Ramchandra Chari, Aksha Subhash Chari and Vedant Rajesh Chari were painting a Sarvajanik Ganesh Idols and Idols for Homes , respectively.
Comment