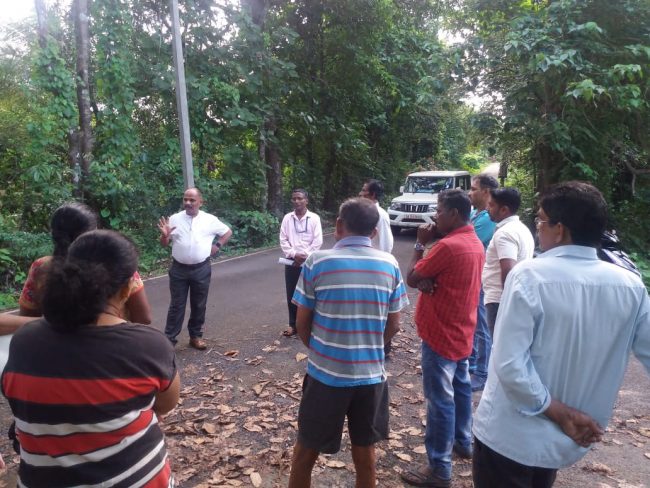 Goemakrponn desk
CANACONA – The government has taken serious note of the threat of panchayat elections by a section of voters of Poinguinim Ward no.1 in the upcoming panchayat elections.
Canacona Mamlatdar and Returning Officer Manoj Korgaonkar met the people/electorate of Khalshi, Chiplem, Tirvonn, Badegal and Kharegal (KCTBK) and requested them not to miss the constitutional right to vote and instead vote in large numbers at the 10th August scheduled Panchayat elections.
It may be recalled that KCTBK residents alleging they are purposely denied their rights to contest elections by continuously reserving their Ward to ST category for the last three terms (including the current term) have declared they will not come out to vote on 10th August in protest.
Returning Officer, in his interaction with the voters at Chiplem Ward, requested that they not give away the right given by the constitution to vote but exercise the right to vote responsibly.
The issues raised by the voters are literally brought to the fore very late, even as voters once again reiterated that reserving their Ward only for a single community' continuously for the last three terms has done a great injustice to other category voters of the Ward.
Besides, the polling station of Ward no 1 is located at a distance of 16 kilometres to the residents/electorate of KCTBK, while the elected panch of this Ward has never given any attention to developmental works in the regions of KCTBK.
The residents highlighted no attention to resolving the Frequent Power failures or any efforts to attend to the visiting Returning Officer's drinking water supply issues and many other issues.
However, after hearing the grievances, Mamlatdar Korgaonkar said it's too late now; however, he said proper attention could have been given if these problems had been brought to his notice before the announcement of the elections.
"Panchayat and Assembly elections are different. Decisions on panchayat elections are taken by State authorities. Henceforth, please put this issue before the village gram sabha, and at the same time show the anger through voting, but do not boycott the elections", pleaded the Returning Officer.
Incidentally, later Returning Officer Manoj Korgaonkar informed he met and tried to convince each of the voters to come out and vote on 10th August, and expressed hope that most of the electorate would come out to vote on the said day.
Comment