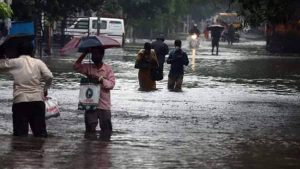 Goemkarponn Desk
PANAJI: Union Home Minister and Minister of Cooperation, Amit Shah on June 30 has given his nod for the release of Rs. 6,194.40 crore to 19 State Governments under the State Disaster Response Fund (SDRF). This allocation aims to provide essential financial support to states in the event of natural disasters and enable them to undertake relief measures during the ongoing Monsoon season.
The approved amount includes Rs. 1,209.60 crore as the Central share of the State Disaster Response Fund (SDRF) for the year 2022-23, benefiting four states, namely Chhattisgarh, Meghalaya, Telangana, and Uttar Pradesh. Additionally, Rs. 4,984.80 crore has been allocated to 15 states, including Andhra Pradesh, Arunachal Pradesh, Assam, Bihar, Goa, Haryana, Himachal Pradesh, Kerala, Maharashtra, Manipur, Meghalaya, Odisha, Punjab, Tamil Nadu, and Tripura, for the year 2023-24.
The Central Government under the leadership of Prime Minister Narendra Modi has consistently prioritized disaster management and relief efforts. Earlier this year, the government had already approved the release of Rs. 3,649.40 crore as the Central share of SDRF for nine states during the year 2023-24.
The allocation of funds to the State Disaster Response Fund is based on the recommendations of the 15th Finance Commission. In line with these recommendations, the Central Government has allocated a substantial amount of Rs. 1,28,122.40 crore for the SDRF, covering the years 2021-22 to 2025-26.
The timely release of funds will enable the concerned states in the Northeast, including Meghalaya, Manipur, Assam, and Tripura, to enhance their preparedness and address any potential challenges arising from natural calamities during the Monsoon season.
Comment