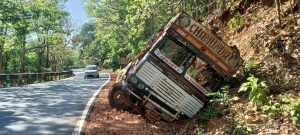 Goenkarponn desk
CANANCONA: In a bizarre turn of events, a Chatisgargh registration truck transporting Coal to Karnataka got struck on a slope at Maxem after hitting a roadside electric pole on NH66 past Sunday midnight, and Karnataka police found the truck driver over-run by a vehicle and lying dead on the road in Karwar district early Monday morning.
A loaded truck (CG15 DF9816) transporting Coal from Goa to Karnataka hit a roadside electric pole sometime after 12.30 -1 am Sunday-Monday on the slight slope at Maxem (old one-way section at the end of MPCBR) on NH66 road. The truck came down from the rear side, hit the electric pole and rested against a roadside tree, miraculously avoiding a fall into the 15-m deep gorge below.
According to Canacona police, a call was received from PCR at about 1.15 am on Monday that a truck was lying precariously at Maxem slope, and when the police rushed to the spot found no one (not even the driver) except the truck. Police observing the dangerous situation called the contact number found on the truck and the truck owner was informed, who in turn informed and provided the number of the Manager (at Usgao-Goa), who assured to send an empty truck early Monday morning to shift the Coal/Bauxite material. However, the material was shifted into another truck by afternoon time, informed police.
In the meantime, Canacona police received a call from Karnataka counterparts, to enquire if there is any loaded truck struck within the Canacona police jurisdiction. Karnataka police informed they found a man overrun/hit-an-run lying dead on the road in Karnataka and based on some information found on his person, his owner provided information that a truck the man was driving is in Goa.
The Karnataka police team consisting of a PI and a PSI reached Canacona Monday afternoon to make further inquiries. Karnataka police reportedly informed Goa police, that a man is found lying on the road overrun by a vehicle and on search found that he was the driver of certain vehicle and got the owner's number, who divulged the truck was in Goa.
Karnataka police are reportedly inquiring into the details of the Driver, found dead on the road in Karnataka in an accident or murder, how and who provided the driver with the lift and what the circumstances were for the driver's escape from the mishap site at Maxem.
In the meanwhile, yet another loaded truck (KA22 C3973) went off the road while negotiating the Karmalghat slope late Monday morning; the mines loaded truck heading towards Karnataka was coming down the hill and just before reaching the accident prone sharp –curve at Karmalghat strayed over the rubble recently spread to widen the road, before going down on its left side and falling/resting on the hillock. Incidentally, no one is hurt, but motorists are forced to negotiate the narrow Karmalghat slope more alertly.
Comment