Chicalim Youth farmers club reaps first harvest of fields
CYFC says this step to motivate youth into cultivation and agriculture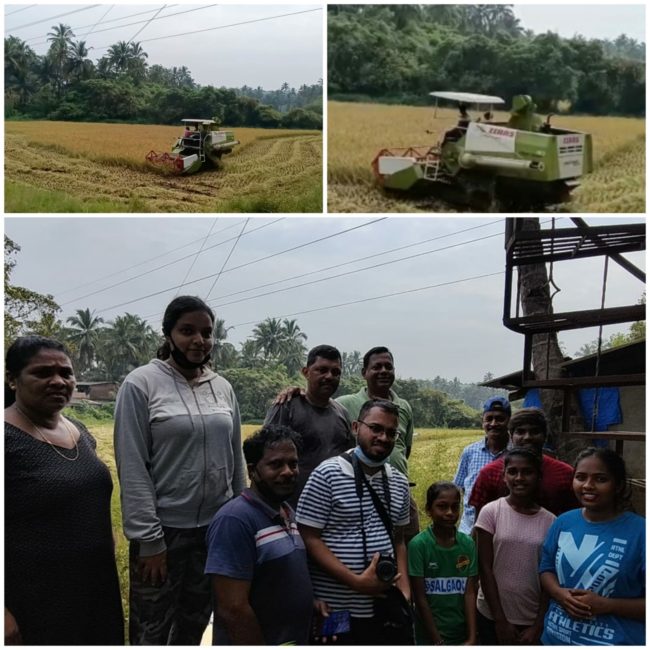 Goemkarponn desk
VASCO: On Sunday, Chicalim Youth Farmers club (CYFC) members reaped the first harvest of many fields and farmlands in and around Chicalim.
CYFC members said that the fields were being cultivated, and the harvest was being reaped as a step to motivate the youth into farming and agriculture as an option to earn their own livelihood.
Speaking to reporters, CYFC President Valerie Afonso said that it was for the first time that CYFC had engaged in reaping the harvest of the fields.
"It is for the first time that we have engaged in this activity, and we have taken the harvest of the fields using a harvesting machine. We have done this for several fields in and around Chicalim. These fields are being cultivated for 25 years, and we decided to participate this time. This is to motivate the youth as this is the way forward as this is profitable and also self-sustainable, and it is nice to see many youth participating in this event," said Afonso.
Meanwhile, Captain Viriato Fernandes, convenor of Goencho Awaaz and mentor of CYFC who was present for the occasion, said that PM Narendra Modi had given a call to be Atma Nirbhar.
"While the Goa Government took the call lightly, the youth of Chicalim accepted the call as a challenge and, under the mentorship and guidance of Fr Bolmax Pereira, took to agriculture activity. The youth are also showing a way and motivating all the youth in Goa. The CYFC is ready to help and guide the youth for anything related to farming and carry out a farming revolution in Goa," said Fernandes.
"The overall scenario in Goa is such that there is no encouragement in Goa for farming and agriculture, which is another form of a profession that the youth can look as an alternative instead of looking for better prospects abroad. The Government should encourage this and offer schemes so that the youth can positively look towards agriculture, but the Government is only looking forward to construction, real estate, and tourism. If the Government encourage and promote agriculture, it will help the youth as there are many farmlands in Goa that can be cultivated and help the state being self-sustainable and provide employment to the youth," said Fernandes.
Comment