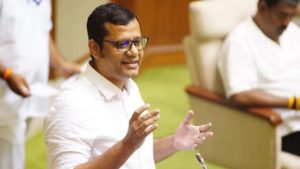 Goemkarponn desk
PANAJI: Reacting to the announcement of Karnataka Chief Minister in the Karnataka Assembly on the Kalasa Banduri (Mhadei) project, Leader of the Opposition Yuri Alemao said that the claims of the double-engine sarkar of protecting interests of Goa fall hollow and flat.
"BJP will not even bat an eye-lid to go all out in making Goa the sacrificial lamb for their political interests," he said.
He added, "I expect the Chief Minister to sink political differences on Mhadei and lead an all-party delegation to the Prime Minister immediately. I had made this demand earlier, but as usual, it fell on deaf ears. The government should table all papers in respect of Mhadei before the Assembly. It is important to extend the session devoting a whole day to Mhadei."
He further said that the statement of Nitin Gadkari saying Zuari Bridge is a Christmas gift to Goa could not be appreciated in the context of imminent threat and permanent damage to Goa's lifeline Mhadei.
"This is not the time to gloat in the luxury of selfies on Zuari bridge,0 he said.
Comment