Goemkarponn desk
PANAJI: BJP today has swept the Zilla Panchayat (ZP) by-elections by winning both the seats it had contested. In Cortalim, BJP-backed independent candidate won.
As per data, the BJP candidate from Davorlim, Paresh Pandurang Naik, won the by-poll elections by a vote margin of 706 votes.
In Reis Magos ZP Constituency, BJP Candidate Sandeep Bandodkar won the by-poll elections by a vote margin of 4244 votes.
In Cortalim, BJP-backed Independent Candidate Merciana Mendes E Vas won the by-poll elections. She polled 4453 votes.
As per the Voters list, the total voters of the above three ZP Constituencies were 55,519, comprising 27,190 Male and 28329 Female voters. A total of 12,850 male voters and 13,055 female voters exercised their right to vote, making a total of 25,905.

All three ZP constituencies saw poor voter response, with an average turnout of just about 46.66%.
In Reis Magos, just 43.94 per cent of the electorate turned out to cast their vote. Cortalim recorded a polling percentage of 45.07 per cent, with empty booths being the order of the day.
In Davorlim, the by-election was by and large peaceful, with 50.52 per cent of voters coming out to vote, even as BJP top brass exuded confidence in winning all three seats.
A total of 15 candidates were in the fray, of which seven were in Davorlim while four each were in Reis Magos and Cortalim. Congress had fielded candidates in all three ZP constituencies, while BJP and AAP were in two constituencies each.
As per SEC, the voting had taken place peacefully across all 74 polling booths. SEC said that no untoward incidents were reported during the entire polling process.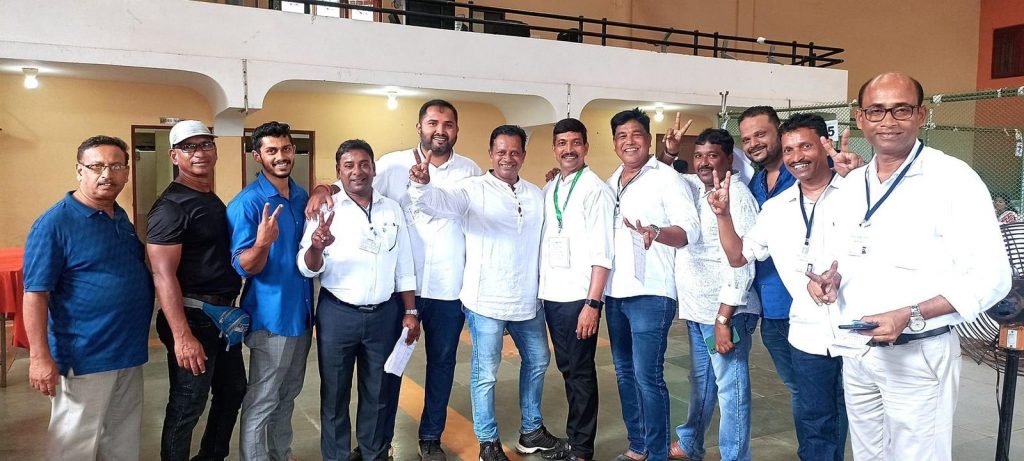 Results of 3 ZP constituencies – Winner and runner-up
▪️ Davorlim
Winner Paresh Naik (BJP ) – 2,369 votes (winning margin 529) , Siddhesh Bhagat(AAP) – 1840 votes,
▪️ Cortalim
Winner Merciana Mendes E Vaz (Independent) – 4453 votes (winning margin 2,942) , Lesley Gama (Independent) -1511
▪️ Reis Magos
Winner Sandeep Bandodkar (BJP)- 5345 votes (winning margin 4,244), Sainath Korgaonkar (Independent) – 1101 votes
Comment