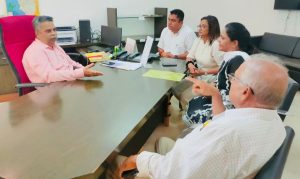 Goemkarponn Desk
PORVORIM: Goa Forward Party (GFP) has demanded with the Education Secretary to immedietly clear of the dues to the self help groups for supplying mid day meals to schools.
"We would like to highlight the issue of free uniforms and raincoats for students of government primary schools. As stated in the answers given to questions in the Goa Legislative Assembly, the government had decided to transfer funds for the uniforms and raincoats directly to the students accounts, instead of providing them," said General Secretary Mohandas Lolienkar
He further said that it come to our notice that many eligible students have not received either the uniform or the raincoat. This has caused much anxiety, and will lead to difficulties for these students, especially during the upcoming rainy season, discouraging them from attending school regularly.
"We urge you to look into this matter with the seriousness it deserves, and ensure that funds are transferred to the accounts of eligible students as soon as possible," he said
Secondly, GFP said that due to the issue of dues pending to self-help groups who provide mid-day meals to government schools. It is a fact that mid-day meals not only ensure the students' proper growth and development but also play a crucial role in encouraging children to attend school regularly. However, it has come to our notice that the government has failed in proper and timely payment to these groups.
This is a matter of great concern as it affects not only the livelihoods of these self-help groups but also the quality of mid-day meals provided to the children. We urge you to take immediate action and ensure that the pending dues of these self-help groups are paid at the earliest. Besides bringing relief to the self-help groups, this will also ensure that the children receive their nutritious mid-day meals without disruption.
In conclusion, we request you to look into these matters and take necessary steps to ensure that the education system in Goa is strengthened, and the interests of both the students and the self-help groups are adequately safeguarded. We hope to be kept informed of the progress made in this regard.
Comment