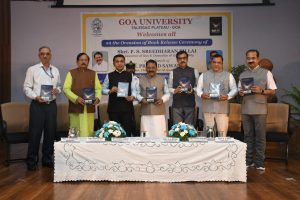 Goemkarponn desk
PANAJI: Chief Minister Dr Pramod Sawant released the book "May Light Lead Us" based on convocation speeches by Shri P. S. Sreedharan Pillai, Governor of Goa and Chancellor of Goa University at a School of Chemical Sciences Auditorium of Goa University today.
Mauvin Godinho, Minister for Transport and Industries, Shripad Naik, Union Minister of State for Tourism, Ports, Shipping, Prof. V S. Nadkarni, Registrar, Prof. H. B. Menon Vice-Chancellor, Prof. K. S. Bhat, Dean, SGSLL also graced the occasion.
In his address, the Governor called upon the people to study the system and also urged them to think about and recall our national leaders. The Governor informed that they were always with the public during their regime and advised the present leaders to keep close contact with people; that is the mantra of success.
Stressing on Souvernity, the Governor mentioned democracy is based on popular sovereignty. In a direct democracy, the public plays an active role in shaping and deciding policy. We need to educate the masses in the proper direction, he urged.
Governor said quality education built the society and added that Goa is the richest State in India, having high per capita income compared to other states.
Addressing the public, Dr Pramod Sawant, Chief Minister, said students will definitely get inspired by the thoughts put by the Governor in his book 'May Light Lead Us'. He mentioned in his own book what he intends to bring in the future, based on the different speeches.
Praising the work of the Governor, Chief Minister said his ability to understand the issues and his graceful response style solved the problems quickly. Being a Governor of the State, he comes across various diverse issues that concern the people of the State, he added.
Shripad Naik said the various issues highlighted by the Governor in his book will enlighten every human being in the State.
The Chief Minister was received by Vice-Chancellor, Registrar and the Dean, SGSLL. The Governor & the Chancellor was received by the Chief Minister, Vice- Chancellor and Registrar.
The Governor, P. S. Sreedharan Pillai and the Chief Minister, Dr Pramod Sawant, along with other dignitaries, lighted the traditional lamp.
Prof. V S. Nadkarni, the Registrar, welcomed the guests. Shri Harilal Menon, Vice Chancellor, gave the Presidential Address while Smt. Savita Ketkar proposed a vote of thanks. Prizes for the winners of Marathon competitions were distributed at the hands of the Chancellor and other dignitaries.
Comment