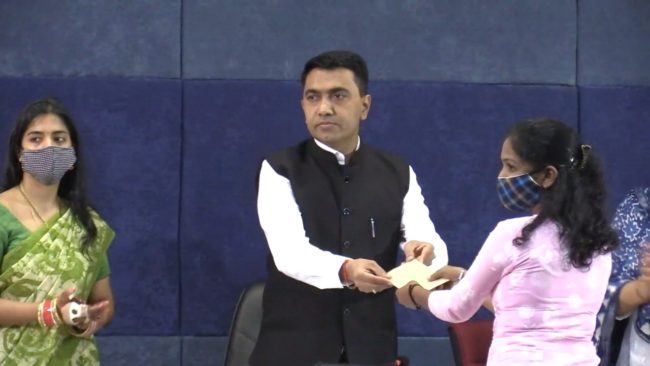 Goemkarponn Desk
PANAJI: The Government through the Department of Personal distributed recommendation orders of Government jobs to 92 beneficiaries at a formal function organized at Secretariat today. These orders were issued under Social Security Scheme, implemented by the Government in the interest of those who have lost their earning member while serving in Government Department.
All the postings are considered against available posts taking into consideration seniority, educational qualification, category etc. Secondly the postings of the candidates belonging to reserved category are considered against respective category available and as per merit and seneyority.
The Chief Minister said that the Government intends to provide ten thousand jobs to youth in the State and to accomplish the objective have initiated steps in this direction. As a part of responsibility of the Government to support the dependent family members of the person who dies while serving in Government service has implemented this Social Security Scheme.
The Government he said intends to modify the scheme which has an income limit of 3:50 lakh so as to extend the benefit of this scheme to the employees from C category. There is also provision in the scheme to support orphan child whose losses both his parents and who is eligible for Government job on completion of his 18 to 21 years of his age till completion of their graduation.
The Chief Minister exhorted the beneficiaries not to forget the job received by them at the cost of their family member. He advised them to value their job and work with sincerity dedication and commitment just like their family member during his lifetime he added.
Comment