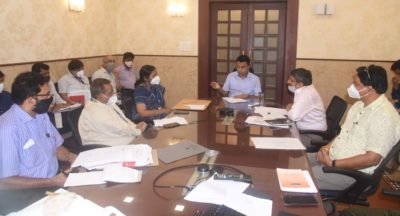 The Chief Minister, Dr. Pramod Sawant held a meeting with all the stakeholders of the National Agricultural Development Bank at his official residence at Altinho today.
The Chief Minister underlined the need to restart various developmental projects of various Departments like PWD, Electricity, Education, WRD, GSIDC etc. which are delayed and stuck due to various reasons.
The Chief Minister further deliberating on issue of power loom and handloom unit in the State which are yet to be functional advised the concerned officials to explore the possibility of outsourcing for its better operation to ensure the people get employment and derive benefit from it.
Dr. Sawant's objective of having the meeting was to explore the avenues of opportunity to develop rural entrepreneurship to accomplish the goal of Swayampurna Goa. This he said, can be done taking in view the sectors like agriculture, handicraft, horticulture and handloom and powerloom etc. He called for the need to focus on tribal areas where people are mostly engaged in farming, cashew cultivation, horticultural product.
Secretary Finance, Puneet Kumar Goel, IAS, Director, DPSE Dr. Y Durgaprasad, Principal Chief Engineer PWD, Uttam Parsekar; General Manager NABARD, Usha Ramesh, Director, Science and Technology, Levinson Martins, Director Women & Child Development, Sunil Masurkar, Deputy General Manager NABARD, Vasant Sawardekar and others were among those attended the meeting.
The Chief Minister urged all concerned engaged in handloom activities of producing Kunbi Sarees to develop a special shawl which can be presented to guests VIPS in their honour. He also suggested the stakeholders of handicraft to avail the benefit of the schemes of NABARD to start their venture and strive to design gift items which will be useful for presentation as our special brand item, he pointed.
Usha Ramesh, General Manager NABARD highlighted about the various projects that can be undertaken under certain schemes of their bank. The project of powerloom and handloom are viable, she added.
Comment