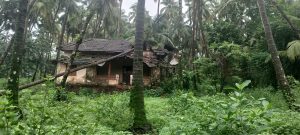 Rain fury continues to cause innumerable tree uprooting incidents in the taluka.
Goemkapronn desk
CANACONA: Heavy rains created havoc in Canacona, with incidents of flooding and tree –felling all over the taluka inching towards a century mark in a fast and rapid manner.
Canacona taluka has crossed over 92 inches, while the Chapoli Dam with storage of 38.35 RL (reduced level) is also getting closer to fill to its brim (38.75 RL) before it overflows at its spillage.
A tree has come down on an old unoccupied House at Dessaiwada, Agonda, almost destroying the house to a great extent.
Incidentally, the often tagged as Heritage House presently unoccupied, is depicted as a Heritage House in Rajendra Talak's a Konkani Film O Maria whose story revolves around the preservation of Goan heritage and opposition to selling Goan Homes to foreign nationals for monetary benefits.
Though a tall coconut tree that fell on its roof destroying and damaging the roof-tiles, wooden planks and damaging the strong erstwhile Walls to a great extent, is still lying unattended since it came down a five days ago.
According to sources, the House situated in Devabhag(Dessaiwada-Agonda) is in the land belonging to Shri Mallikarjun Devalaya and is presently under the care of a family member (reportedly based in Mumbai) of the owners -late couple Xavier and Carmina Fernandes. The coconut tree is however, not yet cleared from the house.
A huge mango tree has also come down in the recently cultivated paddy fields at Khangim, Agonda, on Wednesday morning. The uprooted tree has also brought along a recently laid OFC pipeline out in the open. The uprooted huge mango tree lying on the Panna-Church road in Agonda, is one amongst the two big mango trees on the road-edge, however, came crashing down towards the paddy fields and not on the road..
According to Canacona Fire services, the firemen are on their toes since Tuesday midnight attending to tree falling calls all over the taluka.
Fire personnel had to rush as late as 12 midnight of Tuesday as a Jungle tree came down blocking the road and damaging electricity alignment at Shiroti in Khola village. At about 4.30 am on Wednesday, A Jungle tree also fell on Electricity line and Road near Masjid at Tembewada, while at abut 7.30 am a Coconut Tree fell on a house at Colomb, near the Pagi Samaj hall, Fire services had save about 50 thousand, while damages to the tune of Rs.10 thousands were suffered. Fire personnel had to rush clear a jungle tree that fell on the road at Dumne on way to Agonda, while soon after had to rush back to cujt and clear a tree that fell on cowshed, Charrasta Bhikarwada, causing loss of 50 thousand rupees. Another tree fell on house at Chaudi, Canacona, causing losses to the rune of Rs.5000, but timely arrival of Fire personnel helped the family to saved 25,000/-.
A jungle tree had fallen on Delem-Road was cleared before the fire personnel rushed to Sadolxem to clear another tree that came crashing down on the road and came back to Ponsulem by afternoon time to cut and clear another tree that fell damaging electricity line on the road.
Comment