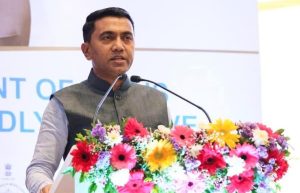 Goemkarponn desk
PANAJI: Goa Chief Minister Pramod Sawant on Thursday said that there is need to come out of "crook mentality" opposing the developmental projects in villages only then progress can take place in the state.
Sawant, while addressing the gathering in Priol constituency of South Goa, urged public not to oppose the developmental projects.
"There will be many types of opposition. Some oppose no sooner than they come to know that the project is in the pipeline. In villages there are some crooked mentality persons that oppose any projects… Sometimes it is because they dislike MLA. (They feel) it should not happen during his tenure… let it happen later… we need to come out of such thinking. Only then development of village state can take place," Sawant said.
Residents of Bhoma village have protested against the proposed expansion plan of the existing National Highway (NH), wearing black attire to voice their dissent. Displaying placards and demanding a bypass road instead, villagers expressed concerns over the impact on their village and temples.
The residents had previously filed a petition in the High Court against the expansion plan, with a hearing scheduled for August 23.
While the Bhoma villagers claim 64 people have got notices of demolition from teh PWD / National Highway Authorities, the State government says that only four houses from each village will be demolished and no temples would be touched.
PWD Minister Nilesh Cabral clarifying the charges made by the locals and politicians said that no temples would be touched.
"The National Highway NH 4A (no. 748) originates at Belgaum (km 0/00) & terminates at Panaji (km 153/00). The jurisdiction of Goa State starts at km 84/00 i.e. Anmod. Hence total stretch of NH 4A in the jurisdiction of Goa State is 69 km, out of which 17 km is already upgraded to four lanes i.e. Ponda bypass including the Khandepar bridge has a 7 km length and the Ribander bypass has a length of 10 km," he explained.
Comment