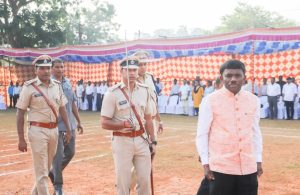 Goemkarponn desk
CANACONA: Stating it is his responsibility to bring all Canacona people on one platform, Speaker and Canacona MLA Ramesh Tawadkar appealed, saying, 'Let's come together and build a strong Canacona.'
Tawadkar was speaking after unfurling the tri-colour at the 74th Republic Day function at the Taluka Headquarters (Gaitonde Sports Complex), Chaudi, in the presence of Canacona Mamlatdar Manoj Korgaonkar, Canacona Municipal Council Chairperson Ramakant Naikgaunkar and others.
Tawadkar advocated the formation of a Trust to help each of the needy people of Canacona and also appealed to the self-capable Canconcars to contribute just a rupee (one rupee) and devote one day of their life for the upliftment of the needy and downtrodden and help bring up that family 'Swayampurn' to live a happy life.
Tawadkar said its been years of everyone's dream to have a four-lane road from Canacona to Margao, and once I, along with a few prominent citizens of Canacona, took it as a challenge to explore ways as to how this work can be completed on priority.
"With the positive acceptance of its need by union minister Nitin Gadkari, we will know the results in 5-6 months, commence this work within a year, and complete it in this two-year time," he said.
Other issues are bugging Canconcars, like Water, Electricity, he said.
"It is my promise to Canacona people that all the basic needs which are not done inspite of we being in the 60th year of liberation will be completed within next year. People are equally concerned that employment is a matter of concern, and Canacona does not have any industries like Verna or other Industrial Estates; we are exploring how agro-based industries, non-polluting industries, expansion of Tourism avenues from sea to Sahayadri hills, temples, and others, whether can also be a cultural hub of the state. We are getting full support from Centre and State governments, and everything will be done at the earliest possible.
'While we are working on Antodaya, no person from Canacona should be left without food and clothing, and I appeal to all Canconcars to keep the village's tradition of coming to assist every next person keeping alive the humanity to others; lets revive this tradition and to begin with let us form a 'Trust' and reach out to even the last person in Canacona and help him to make his progress," he said.
In this same contest, he added, we have already taken up to build 13 houses for the homeless family in Canacona.
"We want to Canacona ahead not only in Goa and the Country but showcase us on the world map. I appeal to all the earning citizens of Canacona to kindly donate just One rupee from their salary/wages (for those who possibly can give more), and One day to the people of Canacona, and help to transform Canacona. Let us make ourselves responsible citizens of our country," he said.
Comment