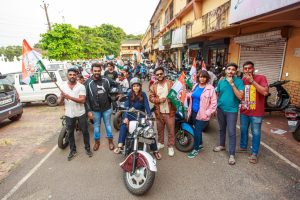 Goemkarponn desk
MAPUSA: North Goa Congress organised a Bike Rally as part of the party's Bharat Jodo Yatra.
The rally was also held to commemorate the death anniversary of Former Prime Minister Indira Gandhi and the Birth Anniversary of Former Home Minister Sardar Vallabhai Patel.
The rally covered 5 constituencies in North Goa, including areas of Mapusa, Siolim and Calangute.
State In-Charge for Goa Pradesh Youth Congress Richa Bhargava, North Goa District Youth Congress President Rinaldo Rozario , South Goa Youth Congress President Mahesh Nadar, Vaishnav Pednekar State Vice-President of Goa Youth Pradesh Congress, State Congress General Secretary and others were present.
"There is communalism happening across the country in places like Manipur and UP. Even in places like Navelim and Calangute these things are happening. Earlier it was Muslims and Hindus. Now, Christians are also facing this threat.
Goans are being subdued and their identity is under threat. What problem does Pramod Sawant have against Goans? Why are outsiders getting jobs in Goa? We want to get this message to every house in Goa and interact with them. The ED and CBI are being misused to harass people. Even journalists are not spared from speaking up. The country is at threat. Our leader Rahul Gandhi says don't worry. The rally is to assure people to tell them that we are with them," Bhargava said.
Rinaldo said that Gandhi was known as the iron lady of India.
"This rally is meant to spread unity and love. Right now in Goa, hatred is being spread on the basis of religion. We want to show the state government that we are united, and we will always remain as one. Our leader Rahul Gandhi's motto is to spread love, and we are taking this forward," he said.
Pednekar said that the BJP government holds elections on the basis of caste, and religion.
"Our Congress does not distinguish on such a basis. We are taking humanity and the country forward. The youth are unemployed, and they are condemning the government. Parents have taken pains to educate them so that they get jobs.
Goa has the highest unemployment rate, and the BJP government is giving false assurances. This rally is to highlight this," he said.
Bhike said," Patel was a man of unity, while opposition leaders had termed Indira Gandhi as an iron lady. The youth are angry. Gandhi was responsible for allowing us to hold the Opinion Poll for our statehood. We need to wake up. We will not allow the use of caste and religion in elections, which is being misused by BJP during elections. Goa is secular and united," he said.
Comment