Goemkarponn Desk
CANACONA:After dilly-dallying for some days, Forest department finally registered a case against a controversial God man, for illegall tree felling at Vape-Sadolxem in Poinguinim village in Canacona.
According to Canacona RFO Anand Mestri, Swami alias Raaj Shashibhushan Pandey is booked for illegally cutting around 30 trees to construct an illegal road and an illegal Structure at Vape hillock at Sadolxem of Poingunim village in Canacona taluka.
It is learnt that forest department after investigation will impose a fine on the illegal tree- felling on the Swami, who is reported allegedly engaged in hill-cutting and went on to construct a structure to house his Ashram.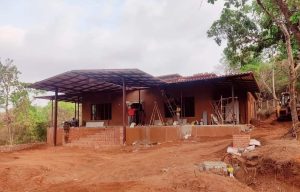 The ward panch Shilpa Prabhu Gaonkar initially raised a concern and reported the matter to the Panchayat about hill-cutting, tree-felling and construction of a structure at Vape-Sadolxem.
The Poinguinim VP than resolved to demolish the illegal ashram saying it is completely illegal and do not have any permits of any authorities for the same.
The Following a complaint with the revenue authorities , the officials carried out a n inspection of the illegal ashram constructions, and Dy. Collector Ramesh Gaonkar has also sought the report.
In the meantime VP Poinguinim sent notices to Water Supply and electricity departments for disconnection of Lines of Contrversial Ashram and also wrote to the TCP and Forest Department to inspect the site at Vape-Sadolxem and initiate action.
The issue also rocked the last grams sabha at Poingunim where members raised serious concerns for ignoring the local body and engaging in the destruction of the environment by illegally felling trees, hill-cutting and carrying out illegal construction throwing all the rules and regulations to winds.
A resolution was passed to demolish the illegal structure and initiated action against the Swami.
Raaj Shashibhushan Pandey is reportedly a resident of Pernem.
Incidentally, while Forest department has booked the Swami for illegal felling of 30 trees, sources stating Panchayat having already shown its stand clear in the illegality, action for respective authorities for hill-cutting and and illegal construction is awaited on the controversial Swami.
Comment