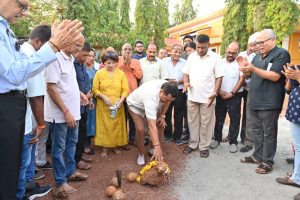 Goemkapronn desk
VASCO: Panchayats Minister Mauvin Godinho on Thursday evening said that a lot of development works were being carried out across the Dabolim constituency.
He was speaking to reporters after Inaugurating developed open space at Dabolim under ZP funds by Sancoale ZP Anita Thorat.
"Every day, somewhere, some work is taking place in Dabolim either through ZP, Panchayat or MLA Level. Today we have launched various programs under ZP funds by our Sancoale ZP Anita Thorat," Godinho said.
He added that the government has already launched the laying of pavers, footpaths and beautification of the stage near MES College, handing of benches at Dabolim, and finally, we have inaugurated the development of open space at Matvem in Dabolim.
"We usually see a lot of work only before elections, but in Dabolim, big and small development works are a routine process which has become our habit. It is our ultimate aim to make Dabolim an ideal constituency in Goa by bringing a lot of development works at all levels and at all times as a team of dedicated elected members, Karyakartas and residents," said Godinho.
Sancoale ZP Anita Thorat said that a lot of development works had been taken under ZP Funds.
"I am happy that we have stood by our word and works are being taken on a large scale. In one day, we launched two projects and inaugurated another completed project. We will also soon Inaugurate a new Ground ar Dabolim that was taken under ZP Funds, and we are trying to take works across all areas in Dabolim through ZP Funds. I want to develop every open space available in the constituency with the help of Panchayats Minister Mauvin Godinho," said Thorat.
Comment