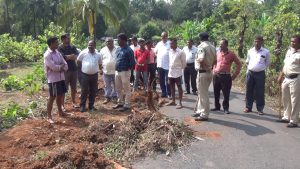 Goemkarponn Desk
CANACONA: The Village Panchayat of Gaondongrim has finally succeeded in removing the Retaining wall/ Fencing along the narrow road curve, known to be responsible for several mishaps and accidents in the village for the past two decades.
In the presence of Mamlatdar Manoj Korgaonkar, Staff of Canacona Dy Collector and presence of Police officials, Gaondongrim Panchayat led by Sarpanch Dhillon (Govind) Dessai engaged a JCB to remove and clear the wooden fencing and stone retaining wall along the narrow and treacherous Curve towards Tudal at Gaondongrim on Thursday.
Several motorists including a mini-bus had fallen accident victims at this treacherous site, making driving vehicles or riding bikes a challenging task.
Alongwith Sarpanch, panch and Former Sarpanch Ashok B Velip congratulated Sarpanch for finally doing what no previous Panchayat's could do even as accidents kept on happening at the venue. The person who created the hurdles with retaining wall and fencing making the narrow road curve even more dangerous kept on hurting people for the last 25 years through their higher contacts, but present Sarpanch achieved what noneccould achieve for these over two decades.
A resident claimed that no such road inferences should be allowed in any of the 9-wards and people should come forward of any similar things are noticed anywhere in the village.
Sarpanch Dhillon (Govind) Dessai thanked the Canacona administration especially the Dy. Collector Ramesh Gaonkar (who is a resident from the village and known to regularly take the same road to reach his residence), and Canacona Mamlatdar Manoj Korgaonkar for responding positively to the villagers greivances leading to removal and clearances of the road blockades, purposely purported by a resident and finally giving a go ahead call to remove the same.
It may be recalled that Villagers in the Gramsabha held soon after the panchayat elections, had vigorously demanded quick action to remove the retaining wall and Fencing along the roadside towards Tudal, which dangerously affects the smooth flow of traffic, resulting in several mishaps and Accidents. A resolution was also passed to do away with a blind turn towards Shri Mallikarjun Devalaya, besides the problematic retaining wall and fencing on the narrow curve 400 metres from the centre towards the road to Tudal. Sarpanch had assured to carry out the works as people and Public especially travelling towards Tudal, Cotigao Netravali and especially to the Bamon-Budo waterfalls are greatly affected.
Residents also accused the resident for blocking a traditional pathway in the area, which is used by the villagers during the ethnic practice of 'Bonvdi', a practice taking place every three years in the village.
Comment