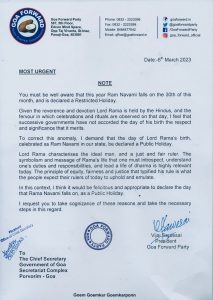 Goemkarponn desk
PANAJI: Goa Forward Chief Vijai Sardesai has today written to the CS of the state demanding Ram Navami be declared as a public holiday.
Sardesai, in his letter to the Chief Secretary, said that "You must be well aware that this year Ram Navami falls on the 30th of this month and is declared a Restricted Holiday.
Goa Forward Chief said that Given the reverence and devotion Lord Rama is held by the Hindus, and the enthusiasm in which celebrations and rituals are observed on that day, I feel that successive governments have not accorded the day of his birth the respect and significance that it merits said Sardesai.
To correct this anomaly, We at Goa Forward demand that the day of Lord Rama's birth celebrated as Ram Navami in our state, be declared a Public Holiday, said GFP Chief Vijai Sardesai.
Sardesai further said that Lord Rama characterises the ideal man and a just and fair ruler. The symbolism and message of Rama's life that one must introspect, understand one's duties and responsibilities, and lead a life of dharma is highly relevant today. The principle of equity, fairness and justice that typified his rule is what the people expect their rulers of today to uphold and emulate.
In this context, I think it would be felicitous and appropriate to declare the day that Rama Navami falls on as a Public Holiday, said Sardesai.
Comment