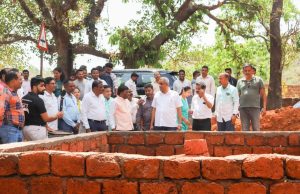 CANACONA: The power department will incur expenses worth 150 crores of rupees for the completion of Underground cabling of ST, HT and Electricity alignment passing through forests and the upgradation of Transformers within two years, informed Power Minister Sudhin Dhavalikar.
Dhavalikar was on a day-long visit to Canacona on Thursday and spoke to media after meeting the Officers, Elected Representatives including Councillors, Sarpanchs, visiting the House construction sites where four houses are under construction under Shram-Dham, and Dhavalikar himself laid the foundation stone to construct a fifth house at Agonda under same Scheme.
'Yes, the Power department will expend Rs.150 crores worth of estimated works for infrastructure development, including underground cabling of ST Lines, HT lines and other overhead alignment passing through forests, upgradation of Transformers. We are completing these works within the next two years', Dhavalikar said to a pertinent question of what Canacona is getting from his ministry.
After visiting, four construction sites scto build houses under Shram Dham at Ordhofond, Kumbegal, Ziltawadi and Ourem -Palolem, Dhavalikar went on to lay the foundation stone to a 5th House out of 14 houses undertaken by Balram Charitable Foundation, a trust launched by Speaker Ramesh Tawadkar.
'There are only a few MLAs who can do such things, it's not sufficient to have only willpower, but determination is a must. One can have very good wishes and thoughts, but if there is no determination, it's challenging to do such things as taken up by Tawadkar and his workers for the people of Canacona '; Dhavalikar praised Speaker Tawadkar.
Dhavalikar, in a meeting with Officers and Elected Representatives, also took a report of the various works undertaken by villages and the municipality of Canacona, where CMC Chairperson Ramakant Naikgaunkar, Sarpanchs Fatima Rodrigues (Agonda), Anandu Dessai (Khotigao), Savita Tawadkar (Poinguinim), Councillors Simon Rebello, Narcisco Fernandes, besides some panchas were present, along with Canacona MLA and GLA Speaker Ramesh Tawadkar.
Comment