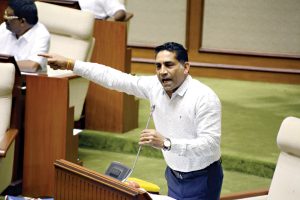 Goemkarponn Desk
PANAJI: Goa Minister and Tribal leader Govind Gaude today said that both the Houses of the Parliament should pass a unanimous resolution to grant political reservation to scheduled tribe community in Goa for the 2027 Assembly election
Stressing that "political will" is utmost important in resolving the issue of political reservation for ST, Gaude said that a resolution in Lok Sabha and Rajya Sabha will help the government to direct the Election Commission of India (ECI) to reserve assembly seats in Goa for tribal community.
At the same time, the Minister said that under Article 330 and 332 of the Constitution, Delimitation Commission has to be in place to undertake the readjustment of Assembly seats. He said that the recent communication from the Centre to State is based on this very fact that the Delimitation Commission will be in place only after population census is undertaken after 2026.
"We have been continuously making efforts to see that ST gets political reservation. But political will is all that is need," he said.
The demand for reservation of seats for Scheduled Tribes (ST) communities in the 2027 Goa Assembly elections received a setback after the Centre ruled out delimitation of constituencies before the polls.
Replying to a query raised by the Directorate of Tribal Welfare, the Union Ministry of State for Law and Justice has stated, "The next delimitation exercise and the readjustment of seats, including the number of seats to be reserved for the SCs and STs would only take place by a Delimitation Commission to be constituted for the purpose after the relevant figures of the census taken after the year 2026 is published."
The reply further states, "Until the relevant figures for the first census taken after the year 2026 have been published, it shall not be necessary to readjust the seats in the Legislative Assembly of each State."
Meanwhile, the Mission Political Reservation for ST of Goa said that it is pained with the reply given by the Legislative Department of Law and Justice, New Delhi to the proposal sent by the Directorate of Tribal Welfare, Government of Goa regarding reservation of seats in Assembly for ST communities of Goa.
Velip said that they will start holding meetings in every village panchayat and are firm on its stand that if reservation is not given by 2024 then they will have no option rather than boycotting the upcoming Lok Sabha elections.
Comment