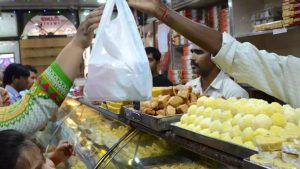 Goemkarponn desk
PANAJI: The District Magistrate cum Adjudicating Officer, North Goa, has imposed a fine of Rs. 5,000/- each on M/s. Goa wholesale Grocery, Viral H. Pandya (Proprietor/Owner), Dhaval H. Pandya (Retailer) of Shop no. 1, Lar Asiena, Co-op Housing Society Ltd., Kernant, Caranzalem, Tiswadi Goa. Fine of Rs. 1000/- each on M/s Rokdeshwar Pulses (Manufacturer), A-223 Chincholi, MIDC, Solapur, M/s. Manish Enterprises Dall Mill (P) Ltd. (Manufacturer), 179/3, Pathar Mundala Road, Near Hanuman Temple Palda, Indore, Madhya Pradesh. M/s. Ajit Kumar Rajmal Gugale (Wholesaler), 608, Krushi Utpana Samit Pune, Shri Chhatrapati Shivaji Market Yard, Pune. M/s Balaji Foods (Wholesaler), S-1, Hira Residency, Sanjay Nagar, Alto Porvorim, Bardez-Goa. M/s. Dundappa Ishwarappa Gadvi, (Wholesaler) M. G. Road, Opp. Delhi Darbar, Panaji-Goa and a fine of Rs. 2,00,000/- on M/s. Arnav Agro Foods (Manufacturer/Supplier), Plot No. F-20/1, MIDC, Supa Tal, Parmar District, Ahmednagar, Maharashtra.
The adjudicating case was filed by the Food Safety Officer, Ms Sujata Shetgaonkar. Samples were drawn from M/s. Goa Wholesale Grocery Shop, Kernant, Caranzalem, Tiswadi-Goa.
The Sample of "Moongdal, Turdal and Massordal" was found failing in moisture content, violating the provision of clause no. 2. 4. 6. 22. Chapter 2 (Food Product Standards) compendium of Food Products Standards and Food Additives dated 08/09/2022, which is punishable U/Sec. 51 of FSSA 2006.
Comment