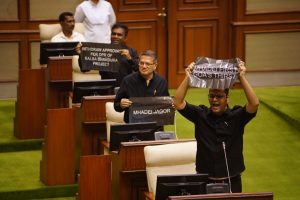 Goemkarponn desk
PORVORIM: Leader of Opposition (LoP) Yuri Alemao today said that the double-engine government has derailed on the issue of Mhadei.
"Has the double-engine government derailed on the issue of Mhadei? The Central Government only wants the benefit of Karnataka as they need more seats in Karnataka," said Alemao.
He further said that If Goa Government can't resolve this issue, they should resign.
"Our only demand was that the Governor makes his statement on the Mhadei river. If they cannot do it, then Chief Minister Pramod Sawant should resign for his failure in protecting the Mhadei river," said Alemao.
Alemao said that they had demanded that the Governor should first speak on the Mhadei diversion issue as it is important.
"Aren't the 33 MLAs in power using Mhadei water? They should resign if they don't resolve the Mhadei issue. This government is not interested in resolving issues pertaining to the people's welfare," Alemao said.
"Switching off the mike (in the Assembly) of the Leader of Opposition shows that this is a dictatorship. The opposition will fight this battle unitedly," Alemao said.
Alemao said, with no concrete assurances given by the Centre to the Goa delegation, the Delhi visit was 'fruitless'.
The Opposition leader also accused Sawant of excluding Opposition MLAs from the delegation because he was aware that no positive outcome would be achieved.
BJP legislators were known to be vociferous on the Mhadei issue in the past accusing them of staying silent now because of a 'fatwa' from the Central BJP leadership.
Comment