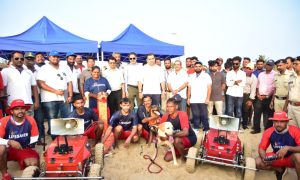 Goemkarponn Desk
PANAJI: Cordoning off risk-prone areas along beaches, deployment of artificial intelligence (AI) systems to monitor risk-prone zones, increasing awareness about safe swimming practices are some of the measures being rolled out by Drishti Marine in order to enhance beach safety measures in the coastal state.
While the closure of risk-prone stretches and the 'Swim With Lifesavers' initiatives will be implemented in the first phase of the initiative, the lifeguard agency is in the process of fine-tuning its AI apparatus and is also readying a 'Paw Squad', a team of trained dogs to aid lifesavers in rescue and beach safety operations.
The additional measures are being undertaken in consultation with the state government in wake of the recent death of four persons at Keri beach at a designated 'No Selfie Zone' and to avoid such instances in the future. Measures will be taken to ensure that the local fishing communities would not be hindered by the safety measures.
Honourable Tourism Minister and MLA of Porvorim, Rohan Khaunte announced the implementation of the additional safety measures at Candolim beach at a special event on Friday.
"As time goes by, we have to adopt new technologies, innovations… There was a tragic incident some days back, when some people tried to take selfies in a 'no-selfie zone'. Their unfortunate deaths reflect on the tourism and safety in the state. We spoke to Drishti Marine about it and they have developed these innovative products for beach safety," Tourism Minister Rohan Khaunte said.
The 'Swim With Lifesavers' programme was first launched in March 2021 by Drishti Marine in Goa. The programme was started in order to create awareness, impart education and provide useful tips about swimming in the sea, while also encouraging individuals to learn to respect the sea to gain a better understanding about it. The 60-minute programme offers a guided swim session, open to all, and aims to create awareness about sea safety and respect for lifesavers. The programme is being revived on beaches which receive heavy footfalls, namely Miramar, Benaulim, Colva and Candolim.
Drishti Marine is also in the process of providing final touches to its two AI platforms Aurus and Triton, which uses advanced technology to assist lifesavers in beach safety.
Aurus is a self-driving robot and the AI-powered monitoring system, Triton, will augment life-saving capabilities along Goa's beaches. Both systems can monitor the surroundings, assess risks and share real-time information to help on-duty lifesavers respond faster. AURUS is currently deployed as a pilot project at Miramar Beach in North Goa for assistance in beach closure, while TRITON, still in testing mode, has been deployed at Baina, Velsao, Benaulim, Galgibag beaches in South Goa and Morjim in North Goa. Drishti Marine intends to roll out 100 Triton units and 10 Aurus units on the beaches of Goa in the coming months.
"It's deeply painful to us, the lifesaving community, to lose an individual to the rough seas. Prevention of a drowning incident is the first step. In an effort to avoid such incidents in the future, barriers along with additional security personnel will be deployed p at risk prone areas in order to deter visitors from accessing these potentially dangerous areas along with additional security personnel deployed. Cordoning off the rocky area near Fort Aguada at Sinquerim has already led to minimisation of such incidents. We plan to replicate the practice in other treacherous spots on rocky beaches like Keri and Anjuna," according to Drishti Marine Operations Manager Navin Awasthi.
"The vast expanses of the beach can be effectively monitored by this AI powered monitoring system while the human resources, the lifesavers, can focus more effectively on the swim zones and save people's lives," added Awasthi.
Drishti Marine is training a team of lifesaver dogs for deployment on high-density beaches in Goa, in a first-of-its-kind program in Asia. The team of eleven dogs are being trained to spot and rescue victims in distress, search and rescue in rocky areas and locate missing children. The 'Paw Squad' is presently under training and will be deployed first on high-density beaches and later on less crowded ones. The team is under the care of Arjun Shawn Moitra, an expert dog trainer.
Their intensive outdoor training includes sessions in a swimming pool to acclimate them with water and putting the dogs through agility drills. The dogs are also groomed regularly with periodic vet examinations and are housed in sanitised kennel spaces that has been approved by DSPCA and has been visited personally by DSPCA Officer Dexter Braganza as well as Mr.Atul Sarin Founder of NGO Welfare For Animals in Goa who has been inspiring humanity by actively providing stray Dogs,cats and cattle's with food, shelter and care
"The introduction and upgradation of the range of beach safety measures and initiatives is aimed at reducing accidents and drowning incidents along the state's beaches," Awasthi also said.
Drishti began operations in Goa in 2008. A total of 200 drowning cases occurred in 2007, the previous year which prompted the state government to take immediate measures and put together an efficient system. The service has led to a 99% reduction in deaths due to drowning and significantly improved the tourist experience in Goa. Over 6000+ lives have been saved since then, due to intervention rescue operations.
Comment