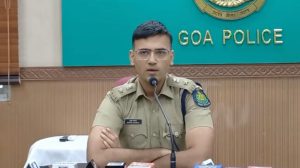 Goemkarponn desk
PANAJI: Superintendent of Police (SP) Traffic today announced that drive again drunken driving would be a daily affair and strict action would be taken against those found driving in intoxicating state.
SP Akshat Kaushal said that it is the responsibility of every citizen and tourists, visit the state, to ensure their own safety and also of others.
"Whenever any citizen of Goa or anyone visiting as a tourist. It is the responsibility of the person who is driving to ensure his safety and others," said SP Kaushal.
He further said that one of the priorities of Goa police is that to take action of anyone who is found either under influence of alcohol or intoxicant.
"Whenever we find such instances, we will take strict action as per the prescribed law of the land. I urge people to follow traffic rules," he added.
SP Kaushal said that he wants all those coming to Goa to have a good time and remain safe because their family members are waiting for them.
"We want this drive against drunken driving as a daily drive and there will be daily surprise checks," SP said
The SP said that checks will happen at different places and not at same places as an element of suprise.
Speaking on newspaper report of faulty traffic fi es machine and money being diverted, the SP said that even if there are multiple logins, the funds will be transferred to Goa government account only.
"Even if there multiple login machines, the money will go to government as the Log in ID is the same," said Kaushal.
The SP said that if in case money is going to someone's private account and the same is bought to our notice we will take required action.
Comment