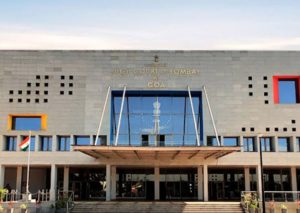 Goemkarponn Desk
PANAJI: The Serula Comunidade promised the Bombay High Court in Goa that it would survey the quantity and extent of land encroachments on its lands using the Directorate of Settlement and Land Records (DSLR).
The Serula Comunidade was presenting a petition to the High Court, claiming that the Administrator of Comunidades was not acting in accordance with their request for action against illegal constructions.
The Advocate General informed the Court that in order to determine the extent of the alleged encroachments, a thorough survey is required before any action is taken.
According to him, the Comunidade was advised to conduct this kind of survey so that, in the event that it was deemed necessary, the Administrator could act effectively under Articles 371 and 372 of the Code.
Rather, the Comunidade informed the Court that such a survey would require knowledge that could be obtained from the Goa government's Panaji-based Directorate of Settlement and Land Records.
He claims that the petitioner Communidade will cover any costs incurred in order for this Directorate to carry out the survey.
Upon learning that the DSLR was willing to carry out the survey, the comunidade informed the court that it would cover the costs associated with the survey work at the rates.
"Within 15 days of today, the Communidade will deposit an amount of Rs 1 lakh with the Directorate of Survey and Land Records. The High Court decided that the Directorate of Survey and Land Records should assign qualified surveyors to conduct the survey in order to ascertain whether there have been any encroachments on the Communidade land and to submit a thorough report or reports to the Communidade Administrator.
Comment