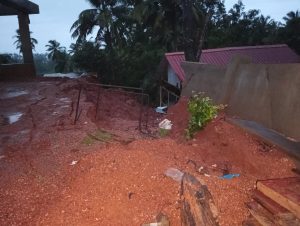 Goemkarponn Desk
CANACONA: Alleging an illegal retaining wall by Resort in Canacona is causing grave danger to the nearby houses and road users, youths in Canacona petitioned the Dy. Collector for initiating precautionary measures.
Rajbhag-Tarir Youths complained to the Dy. Collector that part of a retaining wall constructed by Sunnyvale Resorts Holdings LLP has collapsed a General Store adjacent to it. ' The said retaining wall which is more than 3 metres of height constructed by using laterite stones and Cement blocks has now developed blocks all over and could collapse any moment'
'The major concern being the retaining wall is besides a Road and residential Houses. If no action is taken on this than the houses and even motorists using the road could be harmed in a very grievous manner.'
The youths have also asked Dy. Collector to verify if necessary permission under section 17 of Town and Country Planning Act is taken for mud filling and whether Structural Stability Certificate has been obtained from the registered Structural Engineer.
According to reports, in response to the complaint Canacona Dy. Collector Ramesh Gaonkar immediately visited the site and carried out the inspection.
Youths present reiterated to the Dy. Collector how collapse of part of the retaining wall damaged some portion of the General Store nearby, and shown the cracks developed in the retaining wall, besides pointed out to the illegal height of the wall without any concrete foundation which itself posed a serious threat to the nearby 5 houses and people living in them as well as for the motorists and vehicles using that road.
After submission of these vigilant youths, the Dy. Collector instructed the officials of the Resort to take necessary precautions to protect any future accident/damage.
CMC Councilor Gandesh Madgaonkar, Congress Youth (South District) Secretary Vaishnav Pednekar, Rajan Komarpanch , Supesh Metri Rahul Komarpanch , Ritisha naik, Sangeeta , Suresh B Komarpant were some of the youths who signed the complaint.-
Comment