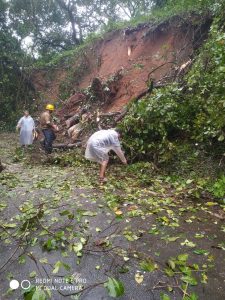 Goemkarponn desk
CANACONA: Heavy rains triggered landslide on the roadside at Dumane early Friday morning.
A huge portion of the earth came down, bringing along a Cashew Tree, almost blocking the Agonda-Canacona road near Dumane Bridge in the wee hours of Friday.
Amidst heavy downpours, Canacona recorded 89.2 mm of rainfall in the last 24 hours till 0830 hrs of Friday, while the seasonal total had crossed 1643 mm at the taluka's rain gauge station.
When informed at about 7.30 am, Fire services rushed to the site and cut and removed the cashew tree and cleared the mud which literarily blocked the road.
The landslide reportedly triggered following a heavy pour of intermittent rains throughout Thursday, brought down a large crunch of mud between the traffic hump and narrow Dumane culvert bridge, blocking even the two-wheelers from crossing to the other sides,
Vehicles, Canacona, came back and took the internal road to proceed to Canaocna via the highway road through Gulem, while a few of the vehicles going to Agonda had to return back and proceed to the highway through Devabhaga road and join Agonda-Khola road by the Dumane internal road.
Incidentally, due to this landslide, another jungle (Madtu) tree is lying precariously and urgently needs its removal before it comes on the road.
Meanwhile, this is the second incident of landslide on Agonda-Canacona MDR (state road), which brought down the roadside trees.
The first was at Keri –Agonda, where a mini-landslide brought down a tree, blocking the traffic. In a third tree-falling incident, two huge Mango and Jackfruit trees came down on the road at Devabhaga, near the temple, completely cutting off the traffic for well over three hours till fire personnel cut and cleared the same on Monday morning.
Comment