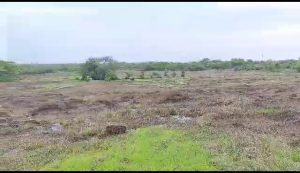 Goemkapronn desk
CANACONA: Amidst reports that some residents have raised objections with various government departments on the decision of Loliem Coomunidade's decision to to allot 250 acres of land on the eco-sensitive Bhagwati Plateau for a 'Film City', an environmentalist submitted a memorandum to the newly elected village Sarpanch not to entertain any type of proposal for developmental works on Bhagwati Plateau.
Manoj Prabhugaonkar after submitting the memorandum to the Sarpanch Nisha Chari speaking to media informed that, 'Proceedure have begun in various departments and Loliem communidade to set up a 'Film City' in the village(Loliem-Polem) on Bhagwati Plateau. We came to know about this through various news reports and media. The reasons due to which this film city is not required in the village and the need to stop this procedure on immediate basis, I have submitted a representation to our Sarpanch. I also spoke to Sarpanch and two other panch members present, who informed me that this letter will be presented in the panchayat body meeting, accordingly.'
Speaking further Prabhugaonkar informed that people should be informed first before a '[film city' is brought in the village and without even knowing or understanding the mood of the villagers/residents, large-scale preparations are being made in full swing for the same. The preparations for any developmental projects should come from the people and given the movements taking place in high places/hierarchy, people are already regrouping and also contacting us asking whether we will have to rise again and agitate, just we have disallowed IIT campus on Bhagwati plateau. Village is not develop is definite, but we the residents will have to face lots of issue if a 'Film City' is imposed on Bhagwati Plateau. Our village will be doomed in several ways'.
It's a joke that some politicians and authorities are making claims that the 'Film City' will generate over 20,0000 employments, and incase that is true our own Loliem village may not have more a thousand people who can be employed in this film city. Does that means outside workforce for the remaining 19000 jobs will be brought in the village? Does our village have such a capacity to accommodate, where we even with just about 7000 population we do not get proper electricity and water supply?'
Earlier, when asked the newly elected Sarpanch Nisha Chari replied that till now the panchayat has not anything/ correspondence on the ESG proposed 'Film City'. The rumors spread are unfounded, and unless anything comes, there's no point to say that this will come up in Panchayat meeting.'
Panchayat Secretary Sandeep Dessai, reconfirming that there's no intimation nor any communication from any authorities regarding the 'film city' stated,' we not received anything from any authorities nor any application from any individual or organisation is received on 'Film City'. We have neither taken any decision or even discussed this issue in panchayat meetings'.
It may be recalled that residents of Loliem, have written to Goa Governor, Chief Secretary and the Administrator of Communidade's (South) calling upon them to reject the Loliem Communidade's decision granting 250 acres in the village to establish a Fil City'.
The letter reportedly cited Loliem Comminidade resolution taken in its General Body meeting held on Oct 15' 2023 is illegal called for declaring this resolution as Null and Void . This decision needs needs to be approved by the Administrator of Communidades and the Governor of Goa as laid down in the Code of Communidades', the residents led by Dattaprasad Prabhugaonkar wrote. Another letter is addressed to South Goa Additional Director of Panchayats and Sarpanch and Secretary of Loliem-Polem where again these two demands of 'rejection of Loliem communidade resolution and also refuse the approvals sought for setting up Film City on Bhagwati plateau.
Comment