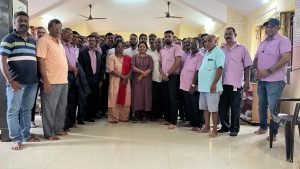 Goemkarponn desk
PANAJI: The 93 erstwhile SMCL workers who have recently been employed by Vedanta Limited for the resumption of mining at Bicholim Mineral Block met with Sarpanch Karishma Gaonkar and Panch Members of Sirgao village. These workers were offered employment by Vedanta Limited- the preferred bidder and current leaseholder of the Bicholim Mineral Block.
This group of 93 workers led by Atmaram Tilve met the village Panch Members to garner their support for the resumption of mining at Bicholim Mineral Block, which was secured by Vedanta Limited during the first auction of Goa mining leases in December 2022. The workers informed the village Panch Members of having gained full employment and benefits from Vedanta Ltd and are looking forward to the resumption of mining in Goa.
"We had a very encouraging meeting with the village Sarpanch Karishma Gaonkar and Panch Members like Suryakant Palni, who congratulated everyone who managed to secure employment at Vedanta Ltd. He further stated that he has no problem with the mining starting again and that he is extremely happy that the resumption of mining will help tremendously with the unemployment issue in the region.
He even stressed the importance of working on the issues faced by the local villagers who too would be in full support of mining resumption."
The workers highlighted that not only had they been retained by Vedanta during the 4 long years of the mining ban in the state, but they had also been saved from retrenchment and could work in the iron ore industry as mining resumed in the state. The workers also highlighted how the recommencement of mining at Bicholim Mineral Block would positively impact their lives and the local economy.
The workmen who were to be retrenched by SMCL following the High Court order had earlier met with Vedanta Limited for detailed conversations, during which they were informed about the company's opportunities, including benefits of continuity of service and protection of prevailing salaries.
Further to the 7-day direct employment notice given by Vedanta Limited on June 16th, 2023, giving them ample time, they had applied for this opportunity that had been preferentially offered to SMCL employees facing retrenchment. After understanding and accepting the employment offer from Vedanta Limited, they are now looking forward to resuming work with the full benefits of continued service.
Comment