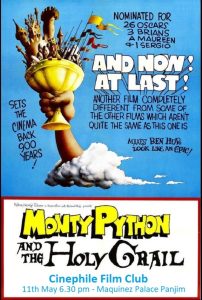 Goemkarponn Desk
PANAJI: ESG's Cinephile Film Club will host the screening of one of the greatest comedies of all time, Monty Python and the Holy Grail, This Thursday 11th May at 6.30 pm, There are funny elements in films, there are comedy films and above all of them is Monty Python.
Film: Monty Python and the Holy Grail (English with English subtitles)
Directed by: Terry Gilliam, Terry Jones
Duration: 1 hr 31 mins
The term ROFL (Rolling on the floor laughing) was not coined back then but that is one of the many ways to describe this cult comedy.
A timeless classic, even during the recent coronation of King Charles, Monty Python fans referenced 'holy hand grenade of Antioch'. The story is about King Arthur and his Knights of the Round Table who embark on a search for the Holy Grail. In 2005, almost 30 years later, Eric Idle used the film as the basis for the Tony Award-winning musical Spamalot. This film is a laugh riot like no other.
Comment