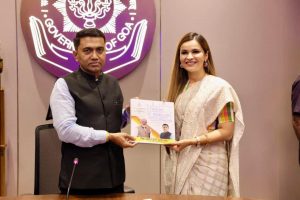 Goemkapronn desk
PANAJI: As many as 40 members of FICCI FLO Amritsar, led by their chairperson Himani Arora, held a meeting with Chief Minister of Goa, Pramod Sawant during a visit to Goa under their entrepreneurship development programme. During the meeting, the group engaged in discussions regarding the trade prospects between Goa and Punjab.
The members, including women entrepreneurs from the field textiles, fashion, retail industry, highlighted the potential for Goa's handicrafts and products in the vibrant market of Punjab, especially through the tourism industry. The handicraft industry of Goa is dominated by sustainable and locally produced goods, including products made from coconut fibres, sea shells, bamboo and traditional weaving. "Just as Punjabi handicrafts and weaving industry is going through a revival phase through public private partnerships, the Goan handicrafts too have a huge potential. Both states can strengthen their economic ties, fostering a deeper sense of camaraderie and collaboration," shared Himani.
The delegation also submitted some proposals for trade and tourism exchange through small scale local businesses and entrepreneurs. "We have a big number of Punjabis travelling to Goa for tourism every year and the easy connectivity through air provides opportunity for better trade and business prospects," said Himani.
Comment