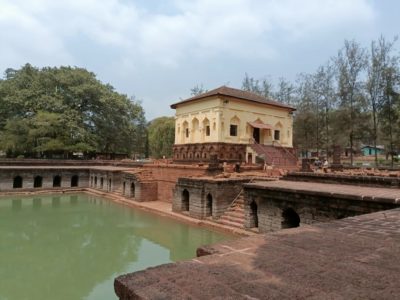 Goemkarponn desk
PONDA: The repair work on collapsed portion and beautification of the entire premises of the historic Safa Masjid Tank and Masjid structure has finally commenced.
The repair work was initiated by the Archaeological Survey of India (ASI) after it collapsed due to heavy cyclonic rain and wind on 22 July last year and posed a risk to the entire structure.
The repair and maintenance work, which started recently, was essential as the collapsed portion posed a risk to Masjid and its tank.
Safa Masjid Committee Chief Mulla Murtuza thanked (ASI) for taking repair and maintenance work on the entire area of Safa Masjid, which would help protect for a longer duration. He said work would complete soon after a few days.
Bandora Sarpanch appreciated the (ASI) for taking repair work on collapsed structures in the rain and repairs on the entire tank and surrounding area.
He said that there is a need for proper care to protect historic Masjid.
"Proper care should be taken to protect the structure from vibration causing out of NH traffic passing from the area," he said.
He said the Masjid is situated on the edge of the protection wall of a water tank, so the work was important for its protection.
He said many tourists in India visit the famous site, and not only Muslims, all the Goans emotionally connected to this Masjid.
The historical and heritage site Safa Masjid in Ponda was built by Islamic ruler Adilshah is located in Shapur, which is often said as located at the entrance of Ponda City. The heritage site located at the entrance of Ponda City comes under Bandora Panchayat Jurisdiction. It was built by Ibrahim ruler Adil Shah in the sixteenth century and is one of the oldest mosques in Goa.
Comment