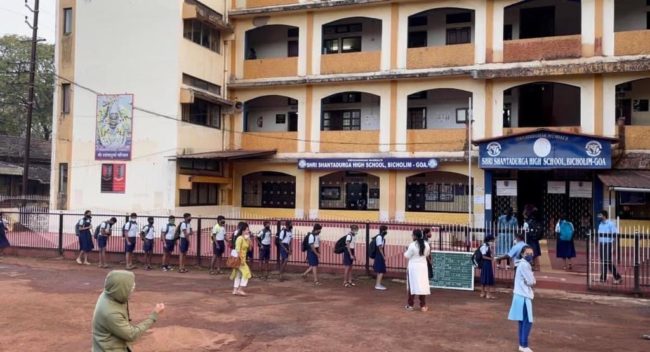 Goemkarponn desk
PANAJI: As the COVID-19 cases dipped in the state, the state government today allowed the schools to commence the physical classes.
The state government said that school uniforms are not mandatory, and concession in timings may be given to students in the initial days when physical classes resume for grades 1 to 12 in Goa from February 21 after the coronavirus-induced break.
On Monday, the sight of uniform-clad children going to schools with face masks was a common sight. However, the institutions have been asked to follow Covid-appropriate behaviour.
It was witnessed as various schools made parents sign an undertaking that the school management would not be responsible if anything happened during school hours.
However, the school has changed from pre-pandemic times to the new normal. While most children think it's a relief to be back in school in person instead of interacting with teachers and classmates through a screen, the transition is challenging, according to teachers and school authorities.
"We are excited to be back at school. The reunion is really a blessing," said a student.
Students interacting with Goemkarponn said they did not like online learning and preferred physical classes while maintaining COVID-19 protocols.
"During a physical class, all the students remain very attentive and concentrate on their lessons, but that's not the case with online classes," they said.
Another student said she is happy to return to school since it was "very difficult" for her to sit in front of a computer screen or mobile phone for hours.
"One loses interest. Also, sometimes you miss lessons because of poor internet connectivity," she claimed.
The mathematics teacher said that teaching during the pandemic had been an uphill task.
"You cannot teach maths to anyone by speaking up. You have to write step by step to make them understand," she said.
"Online studying is really very messy. You will never know what the student is doing; they might even be sleeping," she added.
In a circular, the Director of Education Bhushan Savaikar said timing concession, if required, may be given to students in the initial days. The circular said exams should be held offline only and school uniforms should not be insisted upon by authorities.
Savaikar said the decision to reopen the schools has been taken in view of a downward trend in COVID-19 cases in the state.
Goa schools were announced to shut in on January 4 until January 26 but considering the COVID-19 situation, the school closing order was extended. Now, as the situation is stable, the state government has decided to reopen school.
Schools in Goa are reopening after almost 2 years of closure. However, schools were ordered to reopen in November but were eventually closed again due to the omicron led third wave.
Meanwhile, Goa reported 40 fresh cases yesterday, along with three deaths. The active cases as of Sunday were 570.
Comment