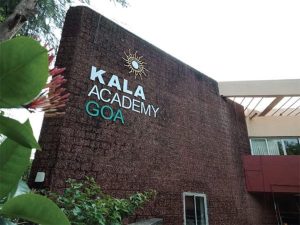 Goemkarponn desk
PANAJI: Chief Minister Pramod Sawant today reopened the renovated Kala Academy complex after the extensive three-year-long renovation efforts.
"The Kala Academy is now open for all artists 365 days in a year. The bookings for Kala Academy will be taken starting December 1. The renovation was done after structural audit report and it was necessary to preserve the structure," said Sawant.
He further said that he is now happy that all artists will be able to perform at this state of the art Kala Academy.
"Many artists and shows could not be held for the last three years due to renovations. Now this Kala Academy is open 365 days," said Sawant.
Art and Culture Minister Govind Gaude announced that the venue is fully prepared to host the International Film Festival of India (IFFI).
He disclosed that the entire Kala Academy property will be open for visitors, with the exception of the outdoor auditorium.
Gaude underscored that the necessary infrastructure is in place, emphasizing the Black Box's remarkable facilities as the center of attention.
Gaude mentioned a significant structural alteration, reducing the thickness of the auditorium slab to a maximum of 15 cms, allowing for improved functionality.
Discussing the Black Box, Gaude emphasized the restoration of its original design resembling the traditional Goan Rajangan. He mentioned alterations in the seating areas for audiences and addressed prior issues such as leakages and electrical problems, assuring their resolution.
Comment