Goemkarponn desk
PANAJI: Aldona MLA Adv Carlos Alvares Fereira, who is currently on tour to Dubai, has appreciated the hygiene and maintainance of fish market in the Emirates state. He has also advocated for such markets in Goa.
"If we wish to truly showcase our variety of fish, help our fisherfolk community and allow our Goans and also our guests to really enjoy our fish, the Fisheries Department in conjunction with the Tourism Department can consider the the suggestion," he wrote on his social media handles.
On this trip to Dubai, he added, on the insistence of our dear friend Marc Alvares, my neighbour Tiofilo Fernandes took us to Dubai Waterfront (Water Front Market UAE – #WFMUAE) where we visited the fruit market & vegetable and the fish market.
"I was indeed happy to make this visit and I sincerely feel we need to have markets like this and the Government should look at this and specially develop our fish markets to provide clean and hygienic spaces and markets," he says.
He added, "I don't for a moment suggest any foreign junket by Ministers or bureaucrats to Dubai but they can write officially or view videos and pics and get the layouts (and of course, see my photographs) and plan and have similar good markets in Goa. (Perhaps they may have already made trips to such and other places and there is no need to burden the exchequer with wanton expenditures on "study tours"!)"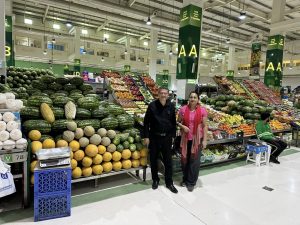 He said the planning of the shopping centre rather market complex has been good.
"The provision for the stands, drainage of fish water as also the provision fish-cutting with a sitting area where customers can be seated and view the seafood being cut/cleaned. In addition to the fish market, there is a vegetable market and other shops for shopping including Lulu's Hypermart," he wrote.
Besides, the MLA said, the other restaurants and eateries in the complex, adjacent to the fish market on the water front side, was a section with several restaurants serving seafood laid out, which could be selected and cooked as per our option – which was serving fresh fish and always full!
"Meat section which is part of the market also was visited by us," he concluded.
Comment