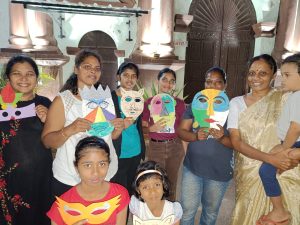 Goemkarponn desk
MAPUSA: The festive spirit of Carnival will spread its wings to the interior villages of Goa; this time around, a unique carnival will be held at the remote village of Pilerne in Bardez taluka
A historic first-ever Inclusive Children's Carnaval will be held at St. John the Baptist Church courtyard, Pilerne, on Thursday, 16th February 2023, at 5pm. This year, the Fernandes' from Pilerne has been chosen as the Royal family who symbolically will be ruling the state for five days and leading the Children's Carnival with the King, Queen, princes, princesses and the royal entourage.
This first-ever children's Carnival will be curated by Festakar Marius Fernandes and Dr Gwendolyn De Ornelas and organised by Pilerne Arts Socio-Cultural Association. It will be held at the Pilerne Thursday heritage market.
"The aim is to encourage the children, parents, and guardians to promote the state's culture and tradition in the Carnival and to minimise commercialism. This Carnival will showcase that festivals in Goa can be promoted without sponsors, alcohol, floats, etc. Since the 18th century, Carnaval has been celebrated in Goa in many forms and is meant for enjoyment, and merry-making just before the forty days of lent, which is a time of abstinence and spiritual preparation for Easter", said Festakar Marius Fernandes.
"I'm very happy and proud to be part of Goa's first-ever Children's carnival, they are the future of our state and country, and we are investing in them," said Parish Priest of St. John the Baptist Fr. Derrick Fernandes, Church, Pilerne
"We held a three-day mask-making and dance workshop with the support of volunteers from our village. Co-curator Dr Ornelas adds that being part of this children's Carnival has showcased women's role in Goa; they have been behind the scenes preparing costumes, headgear and masks. We appeal to every parent to bring along their children dressed in colourful clothing and bring along musical instruments," said Marius Fernandes.
Comment