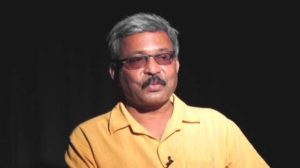 Goemkarponn desk
KERI: Environmentalist Rajendra Kerkar on Friday demanded that an expert committee be formed urgently to thoroughly investigate the cause of the Mhadei Wildfire.
Informing that he has visited and studied the pattern in which the fire has broken out, Kerkar said,
"I smell a conspiracy behind this wildfire. Looking at the pattern in which the forest is burnt, the prima facie points towards intentional forest fire. Since evidence is required to prove the same, I urge that an expert committee be formed to probe into the matter," he said.
Suggesting that an expert committee may include Scientists from BITS Pilani, an expert from the National Institute of Oceanography (NIO), an officer from the Department of Forest, a former judicial expert or a judge as a president of the committee, Kerkar said, "I'm not demanding that the government include me in this committee."
"As a nature lover, I have an attachment towards the environment and feel a responsibility towards environment protection. I suggest the government may include around four to five expert members in the committee to throughly investigate the reason behind this wildfire", he said.
Stating that the Mhadei Wildlife Sanctuary is sheltered to more than 250 avians, Lepidoptera species and wide varieties of trees and animal species, Naturalists Abhijeet Patil said this global biodiversity hotspot sees a wide range of rare animals such as Slender Lorris, Flying Squirrel, Giant Squirrel, Civet Cat, Malabar tree nymph and others.
"We go on a nature trail frequently. From these trails, we realised that burning forests for four days has destroyed the habitat of many species. This wildfire has put the existence of various species, especially those of avian species, into danger since this is the nesting season. The loss of habitat will not only kill the animals but will result in pushing of numerous species towards extinction", he added.
Comment