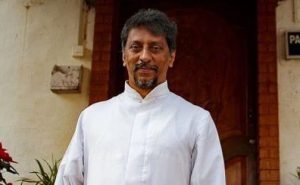 Goemkarponn Desk
VASCO: A Catholic priest in Goa was arrested on Friday after making a statement during a sermon about the Maratha warrior king Chhatrapati Shivaji Maharaj.
According to the authorities, Father Bolmax Pereira was accused with violating the Indian Penal Code's provisions for offending religious emotions. Officially, the case was filed at 10 p.m.
Although complaints were also made to other police stations, including Cuncolim and Canacona in south Goa, officials stated the matter had been reported to Vasco police station.
Pereira had earlier apologized but noted that his remarks about the ruler of the 17th century had been "taken out of context and misinterpreted."
Pereira apologized for the controversy surrounding his comment and the "misunderstanding" that resulted from the name of Chhatrapati Shivaji Maharaj in a statement he released late on Thursday night.
"The purpose and intent of making a mention of the great national hero and valiant warrior during the sermon was to tell devotees and viewers that Chhatrapati Shivaji Maharaj was revered by people across the country and abroad cutting across religions, castes, creed, and languages," the speaker said in a statement.
Therefore, he explained, "attributing him (Shivaji Maharaj) to only one religion would diminish his stature and renown among the people of other faiths.
The priest expressed outrage at learning that his sermon had been "maliciously omitted" and only one portion of it had been "selectively taken out of context" to highlight Shivaji Maharaj's bravery and valor in defending his people and kingdom from invaders.
The deletion of that particular aspect of his statements, he claimed, was done with the intention of provoking rage and sowing discord among the communities.
On Friday night, several hundred Bajrang Dal employees marched to the Vasco police station to demand his arrest. They were agitated at the police station, which created tension in the vicinity.
"The priest needs to be reported to the police for injuring our religious feelings. For us, Chhatrapati Shivaji Maharaj is equal to God, according to Viraj Desai, co-convener of Bajrang Dal Goa.
Bajrang Dal employees' protests persisted despite promises that a FIR would be filed, according to Vasco police station inspector Kapil Naik.
Comment