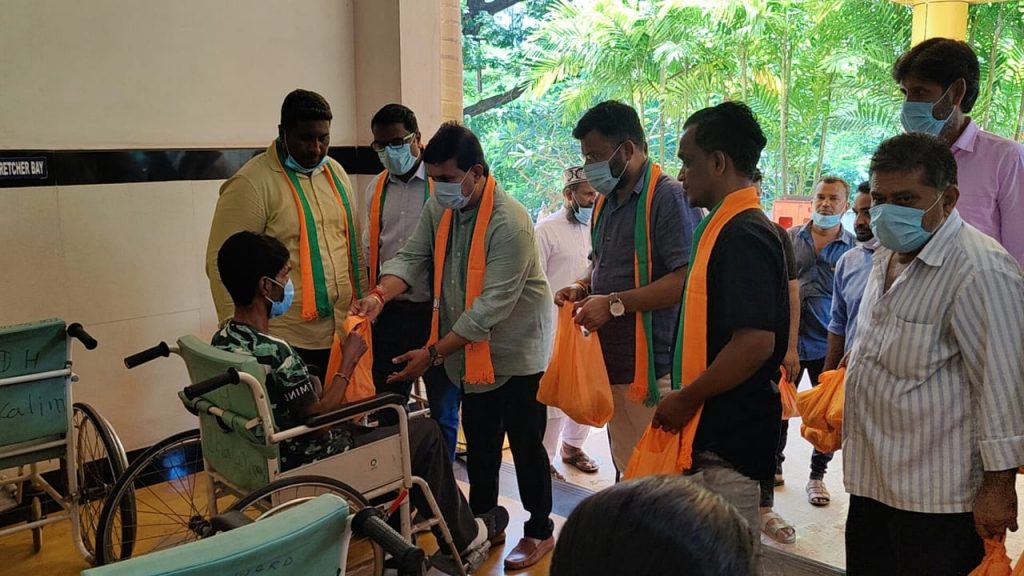 Goemkarponn desk
VASCO: Vasco BJP Minority cell, along with Vasco fruit vendors led by Vasco MLA Krishna Salkar, on Wednesday distributed fruits to patients in the Chicalim Sub District Hospital in the presence of Mormmugao Municipal Council (MMC) Chairperson Leo Rodrigues, Municipal councillors and other members of the Vasco BJP Mandal
Speaking to the media Vasco MLA Krishna Salkar said that the Chicalim Sub District Hospital was facing an acute shortage of staff and that additional staff would soon be recruited.
"When we realised that the Hospital is facing a shortage of staff, we already sent a note to Minister Vishwajit Rane, who assured us to place staff immediately at this Hospital. The staff recruitment procedure has already begun, and we will get the required staff in a few days. This Hospital is very good infrastructure by the government, and the facility must be put to complete use; and while all the equipment is state of the art, sometimes there is a shortage of doctors, mostly because some doctors don't want to work in Government Hospitals. I am confident that additional Doctors, nurses, staff and Technicians will be recruited in a few weeks at this Hospital," said Salkar.
Salkar said that the initiative of fruit distribution was taken under the Seva Pakhwada to commemorate the birthday of PM Narendra Modi.
"While we had many programs, our BJP Minority cell that they also wanted to take a program to commemorate PM Narendra Modi's birthday and the Vasco fruit vendors decided to support the cause and joined hands with the minority cell. Many people are sometimes alone in the Hospital, and the distribution of fruits signifies our concerns towards them, and we will also ask patients if they need any further assistance from us during our drive, " said Salkar.
Vasco BJP Minority Cell President Vaeed Shaikh thanked the fruit vendors for their support.
"We have been a part of all the programs taken up by Vasco BJP, including the fruit distribution, TB Patients Adoption, Cleanliness and plantation drives as well. We wanted to take the initiative from our side this time and decided to have the fruit distribution program, and we will continue to do good service to people with the support of our MLA Krishna Salkar in the future as well," said Shaikh.
Meanwhile, MMC Chairperson Leo Rodrigues thanked the Vasco fruit vendors for having supported the cause of fruit distribution taken up by the Vasco BJP Minority cell.
"The fruit vendors have always stood by our support, and this is for the first time that Vasco fruit vendors will be distributing fruits along with us to patients in the hospital along with Vasco MLA Krishna Salkar," said Rodrigues.
Comment