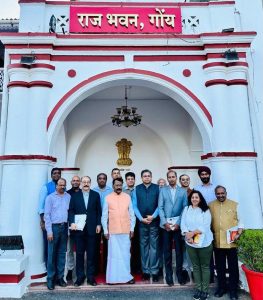 Goemkapronn desk
PANAJI: G20 officials from New Delhi and the accompanying delegation met with the Governor of Goa, Mr P.S. Sreedharan Pillai, to brief him on the plan for the upcoming meetings in Goa as part of the G20 Summit.
G20 Chief Coordinator, Mr Harsh Vardhan Shringla and Secretary to Government of India, Ministry of Tourism, Arvind Singh, briefed the Governor about the events for the eight scheduled meetings starting next month. P.S. Sreedharan Pillai has stressed that the plans should include sustainability and promote hinterland tourism during the summit.
The Governor welcomed the summit to Goa and suggested that the officials also promote Goa's rich culture and heritage. He highlighted that Goa is culturally and architecturally rich, which can be promoted globally during the visit of the foreign delegation here in Goa.
During the meeting, he highlighted the need to promote eco-tourism and the heritage trees of Goa. He pointed out that the theme of G20, ' Vasudhaiva Kutumbakam', which translates to "One Earth, One Family, One Future", is apt for Goa as people of all faiths live in harmony and unity in the state.
Following the meeting, the Governor took the officials on a tour of the Raj Bhavan, which holds a lot of historical value.
Secretary Protocol and State Nodal Officer, G20 Sanjit Rodrigues, also attended the meeting.
Comment