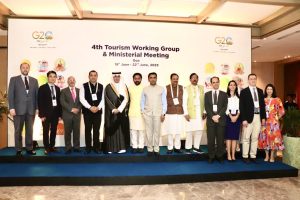 Goemkarponn Desk
PANAJI: Fruitful and constructive deliberations at G20 Goa meet, has paved the way for new era of Global co-operation. As we bid farewell to this august Gathering of nation's, let's carry spirit of unity and shared responsibilities. I, am sure the decisions arrived at G20 Goa, will ripple across continents flourishing all sectors making a way for India's economic growth. We need to remain steadfast in our commitments to foster with sustainable growth.
The legacy of G20 Goa will be defined by our actions ahead in near future said Tourism minister Rohan Ashok Khaunte.
The G20 Tourism Working Group Meeting, held in Goa, India, has successfully concluded, reaffirming the importance of tourism as a catalyst for economic growth, cultural exchange, and sustainable development. The meeting, which brought together leaders and delegates from G20 member countries, provided a platform for collaboration and knowledge sharing on key areas such as Sustainable Development, Employment through Tourism, and Women Empowerment.
India takes immense pride in hosting the G20 presidency, reflecting the nation's growing global influence and its commitment to shaping the global agenda. As the world's largest democracy, India brings diverse perspectives, rich cultural heritage, and a track record of inclusive and sustainable development to the table.
The choice of Goa as the host for the G20 Tourism Working Group Meeting is a natural fit, given the state's rich tourism potential and expertise in the industry. With its pristine beaches, vibrant culture, historical significance, spiritual retreats, and delectable cuisine, Goa stands as an unparalleled tourism destination.
Goa has witnessed significant growth in its tourism infrastructure, with over 6000 hotels accounting for more than 55,000 rooms in the state. The state has also made remarkable progress in embracing sustainable tourism practices, emphasizing community engagement, environmental conservation, and inclusive growth. Through initiatives like the policy on homestays, which focuses on creating cluster economies and engaging the local community, Goa is setting an example for sustainable tourism that can be replicated worldwide.
During the G20 Tourism Working Group Meeting, insightful sessions were held on various aspects of cruise tourism. These sessions explored the global perspective on cruise tourism, developing India as a hub for cruise tourism, policies and initiatives in the sector, and the importance of gender balance. The knowledge gained from these sessions will contribute to the growth of India's cruise industry and positively impact Goa's cruise industry, which already boasts 35 cruise ships and welcomed 46,000 foreign tourists in 2019-2020.
Goa, with its two international airports, envisions enhanced tourism exchange between countries through the G20 Tourism Working Group. The introduction of the Manohar International Airport is expected to increase the number of direct flights connecting Goa to domestic and international destinations, further boosting tourist footfalls.
Tourism's potential to create jobs and drive socio-economic growth was emphasized during the meeting. The sector directly employs individuals in hotels, restaurants, and travel-related businesses, while also generating indirect employment through the supply chain and supporting industries. By capitalizing on tourism, states can unlock opportunities, empower locals, and fuel socio-economic progress.
The G20 Tourism Working Group Meeting in Goa has been a resounding success, with active participation and valuable contributions from G20 member countries and esteemed delegates. The fruitful exchange of ideas, sharing of best practices, and collaborative efforts exhibited during the meeting reflect the shared vision and determination to shape the future of tourism in a responsible and sustainable manner.
"I would like to acknowledge and express our deepest gratitude to the Honourable Prime Minister, Narendra Modi Ji and Union Minister for tourism, Shri. G Kishan Reddy Ji, for their remarkable contributions to the tourism sector and for bringing one of the most important G20 events i.e the G20 Tourism Minister's working Group to our state of Goa" said Goa's Tourism Minister Rohan Ashok Khaunte.
"I extend my heartfelt gratitude to all participants for their contributions and look forward to continued cooperation in realising the potential of tourism as a driver of inclusive and sustainable growth" stated Minister Khaunte.
Comment