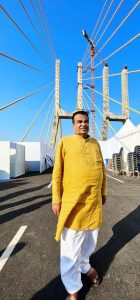 Goemkarponn desk
CORTALIM/ AGASSAIM: Union Minister for Road Transport and Highways Nitin Gadkari said that he will find out a way to finish the Zuari Bridge revolving restaurant and that he has already spoke to PWD Minister Nilesh Cabral.
"We will find a way out for this," Gadkari said.
Goa Chief Minister Dr Pramod Sawant too was upbeat about the revolving restaurant.
He said that There will be a revolving restaurant on the new Zuari bridge tower. State govt will contribute 50 per cent of the cost.
"I request Union minister Nitin Gadkari to sanction a light and sound show on New Zuari bridge, which tourists can enjoy from the lower deck," he added.
CM further said that a revolving restaurant will come up come what may.
"Even if we have to give it on a BOOT basis, we will do it," he said.
Gadkari further said that his aim is that we need to encourage Indians to make bio-fuel in India.
"We aim to promote Swadeshi (indigenous), which is important for the country," he said, adding, "We are encouraging the ethanol industry from sugarcane juice, molasses, rice, corn, and food grain," he said.
He said the central government has sent this policy to all states as well.
"State governments should scrap 15 years old buses, trucks, and cars in departments that come under their ambit," said Gadkari adding, "I would insist on state governments to adopt similar measures soon."
Gadkari said that the development of Goa should be pollution-free and emphasis should be placed on e-vehicles.
Chief Minister Pramod Sawant said that the state government will give compensation of Rs 2 lakh each to the families of the 3 workers who died during the construction phase.
"Govt to give compensation of Rs. 2 lahks each to the families of the 3 workers who died during the construction of the new Zuari Bridge," said CM Sawant.
Comment