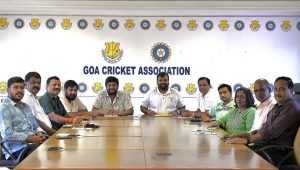 Goemkarponn desk
PANAJI: In a significant development, the Goa Cricket Association (GCA) convened a meeting today to nominate its representative for the upcoming Board of Control for Cricket in India (BCCI) Annual General Meeting (AGM) and Election scheduled for September 25, 2023.
In a unanimous decision, the GCA has chosen Mr. Rohan Gauns Dessai, the Secretary of GCA, as their nominee to represent Goa at the prestigious event.
The decision was made during a meeting held at the GCA office, where members and officials gathered to discuss the crucial matter of nominating a representative for the upcoming BCCI AGM and Election.
After careful deliberation and unanimous consent, Rohan Gauns Dessai was chosen as the ideal candidate to represent Goa and the GCA at this pivotal event in Indian cricket.
Mr. Dessai's nomination is a testament to his dedication, commitment, and outstanding contributions to cricket administration in Goa. His extensive knowledge and experience in cricket governance make him a highly qualified candidate to represent the interests of Goa and the GCA at the BCCI AGM and Election.
Hon. Secretary Rohan Gauns Dessai thanked all the GCA members, Stakeholders and Club Affiliated to GCA for this opportunity to represent Goa at the prestigious AGM.
Comment