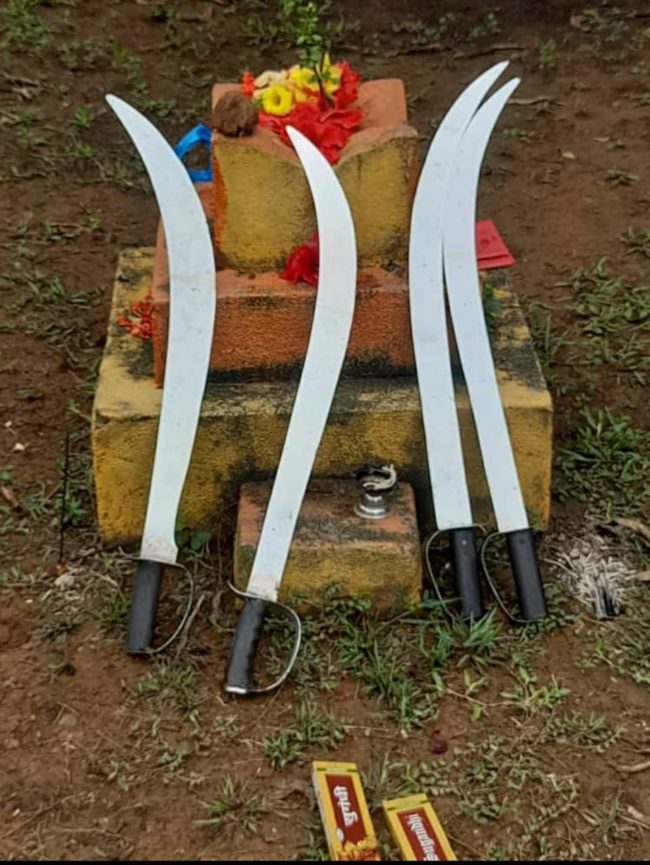 Goemkarponn desk
CANACONA – Poinguinim, the cultural centre of Canacona, kept its date with the Triennial festival of 'Gadyaanchi Jatra', celebrating it with great devotion and spirituality on Saturday evening at Welwada, a small hamlet of Poinguinim village located in Canacona.
Considered to be an important festival to the habitants of three villages of Poinguinim, Loliem and Kharegal, the Gade (4 men dressed in a turban and white dhoti, holding a sword and cloth piece in each hand) came from 10-12 km distances to the Shri Betal Temple at Welwada-Poinguinim, where the celebration took place in the name of Betal who is the highly respected deity of Poinguinim and the neighbouring neighbour villages. Thousands of people devotedly attended the highly charged rituals of the Zatra.
The four spirit-filled men(Gade) clad in dhoti were virtually suspended to a revolving wheel hooked to the two wooden planks at the height of about 45 feet from the ground in front of Shri Betal Temple while devotees all along chanted mantras and names at the beats of Dhol as part of the rituals.
In a unique performance, the four Gade tied to the wheel were rotated in either way, as one of the Ghado posed four questions to the crowd below, such as 'Lolayekar Aile'( whether People from Loliem Come), 'Poinginkar Aile' , 'Khargaalkar Ailo' and then 'Khushi Zale'(Are you satisfied?) Once got a positive response from the devotees down below, the rotating wheel is stopped marking the end of the ritual.
Pair of Roosters (Cocks-Male Fowl) were also sacrificed on Sunday; try second even as the rituals of the 22 days celebration will continue until coming Friday, informed sources.
The high devotion -filled charged rituals are believed to be part of the 22 day-long festival dedicated to ghosts and spirits (Bhutam, Devchar)
This once-in-three-year festival is traditionally participated by 26 different communities of Poinguinim Loliem and Kharegal. Besides faithfulls from neighbouring villages and State's, however, missed one date during the Covid-19 pandemic after it was last held in 2017.
In the three years cycle, Jevnni, a ritual, is performed in the first year, the famous Thakaa procession is carried out in the second year, and the Ghadyeanchi Zatra is held in the third year.
Comment